Fetty Wap Says He Turned To Crime To Support Family Members
The New Jersey rapper asked for a minimum prison sentence, noting he's 'truly sorry.'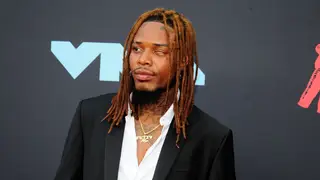 Fetty Wap and his legal team are asking a judge for a minimum sentence after he pleaded guilty last year to federal drug charges.
On Wednesday (May 17), the New Jersey rapper's attorney cited through a memorandum the pandemic as one of the reasons his client resorted to the "bicoastal drug distribution organization" that led to his October 2021 arrest on federal drug conspiracy charges.
According to XXL, while Wap, born Willie Junior Maxwell II, pleaded guilty to conspiracy to distribute and possess controlled substances last August, his lawyers are making their case for a five-year mandatory minimum prison sentence rather than the prosecutor's recommended 87 to 108 months.
Elizabeth Macedonio, Fetty Wap's attorney, says his involvement in the "instant offense" stemmed from "depression" and compounding "financial obligations" exacerbated by the onset of the coronavirus pandemic.
"In or about 2020, with the coming of the worldwide pandemic, things began to change for Mr. Maxwell. There were no opportunities to perform, thus his income was severely limited," said Macedonio via the filing, which further listed a series of setbacks that occurred prior to his alleged drug operation, claiming, "he was sued personally, was going through a divorce, and was involved with a tour manager who was stealing from him.
"Depression and panic began to set in," the statement continues. "As stated, Mr. Maxwell took enormous pride in his ability to provide for his children and lend support to his other family members. He is described as a people pleaser and a person who gains great satisfaction from taking care of others. Suddenly it felt like life was going in reverse and he became ashamed when he began to struggle to keep up the lifestyle that he created for so many. His judgment became impaired. Desperate to keep up with his financial obligations, Mr. Maxwell became involved in the instant offense for a few months in the spring of 2020."
Fetty Wap is slated to make his next appearance in court on May 24, during which he's scheduled to be sentenced.