Black FedEx Driver Fired A Year After He Says White Men Attacked Him
D'Monterrio Gibson said that he was terminated in an email sent by the company after refusing a part-time position.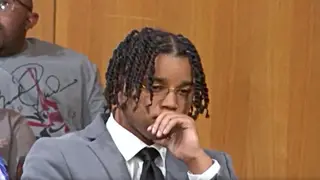 A Black man in Mississippi who accused a father and son of shooting at him during a delivery is now unemployed after being fired by his employer.
According to the Associated Press, D'Monterrio Gibson, 25, said that he was notified about his termination from FedEx in an email sent by the company.
"I honestly feel disrespected," Gibson said.
On Monday (August 21), Meredith Miller, manager of global network communications for FedEx, confirmed to the AP that "Mr. Gibson is no longer employed at FedEx."
Carlos Moore, Gibson's attorney said that FedEx terminated his client on July 26, and then on July 31, the company attempted to deliver a letter and documents to his residence.
Moore also stated that Gibson claims that he was fired because he did not accept a part-time, non-courier position that was offered to him in mid-July, adding "that
he did not know whether the company gave Gibson a deadline to accept."
"They can't tell me when I should be ready to come back," Gibson said.
Gibson also said that he's been receiving about one-third of his pay while on worker's compensation leave, after reporting being attacked in Brookhaven, Mississippi in January 2022 to authorities.
Although he was not injured in the shooting, Gibson has been in therapy to treat his anxiety and says that he still has trouble sleeping. Eventually, he filed a lawsuit against the city of Brookhaven, Miss., FedEx, and the Cases seeking $5 Million in damages.
On Aug. 17 (Wednesday), a mistrial was declared by a Mississippi judge in the trial of Brandon Case and his father, Gregory Charles Case who were charged with attempted murder for allegedly chasing and shooting at Gibson who was making deliveries in their neighborhood.
Circuit Court Judge David Strong declared the mistrial due to a series of errors made by a Brookhaven Police Department detective who "admitted to improper testimony and sharing information that was not previously disclosed to the legal teams."
On Wednesday (August 17), Detective Vincent Fernando testified that he failed to disclose a videotaped statement that Gibson gave to authorities and "had improperly testified about some guns that were found in the home of one of the Cases and gun shell casings nearby."
Last month, a grand jury issued a report saying that Brookhaven Police Department officers had a track record of "poorly" investigating their cases.
Made up of local residents, who considered more than 60 criminal cases the grand jury reported that the department is "complacent," "does not complete investigations in a timely manner," shows a "lack of professionalism" and "has a habit of witness blaming."