Mistrial Declared in Trial of Two White Mississippi Men Who Shot at Black FedEx Driver
Brandon Case and his father Gregory Charles Case were charged with attempted first-degree murder for shooting into the vehicle driven by D'Monterrio Gibson in January 2022.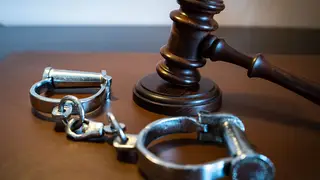 A mistrial has been declared by a Mississippi judge in the trial of a father and son who were charged with attempted murder for allegedly chasing and shooting at a Black FedEx driver.
Brandon Case and his father, Gregory Charles Case, have been charged with attempted first-degree murder, conspiracy, and for shooting into the vehicle driven by D'Monterrio Gibson in January 2022. Gibson was making deliveries in their neighborhood, the Washington Post reports.
Circuit Court Judge David Strong declared the mistrial because of errors made by a Brookhaven Police Department detective who "admitted to improper testimony and sharing information that was not previously disclosed to the legal teams."
On Wednesday (August 17), Detective Vincent Fernando testified that he failed to disclose a videotaped statement that Gibson gave to authorities and "had improperly testified about some guns that were found in the home of one of the Cases and gun shell casings nearby."
When defense attorneys requested a mistrial, Strong said he "had no other choice" but to grant it.
"In 17 years, I don't think I've seen it," Strong told the courtroom.
After the mistrial ruling, Sharon McClendon, Gibson's mother, yelled an expletive in the courtroom to display her disagreement with the decision.
Carlos Moore, Gibson's lawyer, expressed his disappointment in the ruling. Moore said he shared in "the deep disappointment and frustration expressed by Circuit Judge David Strong over this development."
"A mistrial represents not just an administrative setback but also a delay in justice for Mr. Gibson and his family," Moore's statement read. "It is concerning that BPD withheld a potentially crucial piece of evidence."
Moore also requested that the Brookhaven Police Department be investigated by the  Justice Department "for potential obstruction of justice."
"We believe that this is not an isolated incident but a part of a larger pattern of obstruction by the BPD," Moore said.
The incident took place on January 24, 2022, when Gibson was delivering packages for FedEx in a Hertz rental van. After leaving a package at a home on a dead-end street,  Gregory Case blocked Gibson's pathway with his pickup truck and Brandon Case came outside with a gun.
When Gibson attempted to maneuver around the truck with his van, shots were fired. At least three rounds struck the delivery van and some of the packages inside the vehicle.
"There's another guy standing in the middle of the street pointing a gun at my windows and signaling to me to stop with his hands, as well as mouthing the word, 'Stop.' I shake my head, no, I hide behind the steering wheel, and I swerve around him as well," Gibson told the Mississippi Free Press last year. "As I swerve around him, he starts firing shots into my vehicle."
After escaping the Cases, Gibson told FedEx about the altercation and filed an incident report with the Brookhaven Police Department. In the incident report, he said that he heard "at least five shots and heard the bullets hitting the van."
On Feb. 1, 2022, the Cases turned themselves in to the police. But they were released on bond the next day. Initially, they were charged with aggravated assault. But last November,  the charges were increased to first-degree attempted murder.
Despite the mistrial, Moore said he is still determined to make sure that justice is served on behalf of his client.
"We remain committed to seeking justice for D'Monterrio Gibson and ensuring that the legal process is fair, transparent, and accountable," Moore said.