Naya Rivera's Death Certificate Reveals Heartbreaking Details Of Her Final Moments
The 'Glee' star reportedly drowned during a boat trip.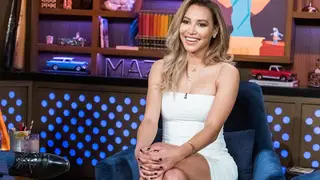 Tuesday, July 30, 6:10 PM ET:
Glee Naya Rivera passed away after a drowning accident. Now, her death certificate has been revealed.
According to the certificate obtained by PEOPLE, her cause of death was "drowning" and states that she died within a manner of "[minutes]."
PEOPLE also reports the death certificate said, "there were no other significant conditions that contributed to her death."
The 33-year-old was confirmed dead on July 13 after vanishing during a trip with her 4-year-old son, Josey Dorsey at Ventura County's Lake Piru. Josey was safely found floating in the boat with a lifevest.
Tuesday, July 14, 6:00PM ET: The Ventura County Medical Examiner determined what we already knew. Sadly, it was determined that 33-year old actress Naya Rivera died from accidental drowning. 
After using dental records to identify her body, which was found floating in Lake Piru on Tuesday (July 13), the office concluded that Rivera had no drugs or alcohol in her system nor any disease at the time of death, although a full auptopsy including a toxicology report, is still pending, according to Deadline. 
Rivera is survived by her parents, brother, and 4-year old son, Josey whose life she saved the day she drowned. 
Funeral arrangements have yet to be determined. 
5:04 p.m. ET: Actress, model, and singer Naya Rivera's body has been recovered from Lake Piru in Ventura County, California. Pending dental records, Ventura County Police have offficially confirmed during a press conference that she has been found and declared dead.
The 33-year old mother's death was confirmed today, five days after she went missing on July 8, 2020 after renting a pontoon boat  with her four-year old son, Josey. When she was hours late to return the boat, the Coast Guard sent out a search party.The child was discovered in good health wearing a life vest and wrapped in a towel, alone on the boat, while Rivera was no where to be found. Details are emerging that Rivera and her son were both likely in the rough waters and she had enough energy to save Josey, but not herself. 
Her body was found floating this morning where she was last seen in the water. There is no indication that there was foul play or that this was a suicide. 
Search for the Glee actress began almost immediately, but as the days went along, those efforts turned from rescue to recovery. 
On Saturday (July 11), her mother, Yolanda Rivera and brother Mychal Rivera at the scene of the tragic incidentvisited the site where she was last seen. Images surfaced on social media of Yolanda Rivera kneeling on the boat dock, throwing her arms wide open in what one could only paint as an act of prayer with Mychal by her side, TMZ reports. The actress' father, George, has now joined the search and her ex-husband, Ryan Dorsey, also made his way to Lake Piru following her sudden disappearance, according to TMZ. 
1:30 p.m. ET: Ventura County officials said Monday, July 13 that a body was discovered at the lake on Monday morning, but according to law enforcement sources, it has not yet been confirmed to be that of Rivera. A press conference about the tragic news is scheduled for 2:00 p.m. PST. 
However, TMZ is reporting that law enforcement sources have told them that Rivera's body has been recovered from Lake Piru.
BET.com will continue to update this story as further details become available. 
___________________________________________________________________
Naya Rivera, best known for her role on Glee, is presumed dead after she was swimming with her son in Lake Piru, a reservoir in Los Padres National Forest in Southern California, according to The Washington Post. 
Rivera went missing on the afternoon of Wednesday, July 8. Reportedly, she rented a boat and her four-year-old son, Josey Hollis Dorsey, was found hours later floating in the boat alone.
CBS reports, "The child was said to be unharmed and told investigators that he and his mother were swimming, but his mother never got back into the boat.It was not immediately clear how the child got back into the boat."
Josey was found in a life vest. An adult life vest was found on the boat.
Capt. Eric Buschow, a spokesman for the Ventura County Sheriff's Office, said at a news conference, "There's no evidence of foul play at this point. This may well be a case of drowning."
RELATED: Commentary: Naya Rivera Talks Dirty on The View
Naya's last photo on Twitter was with her son and captioned, "Just the two of us." 
Naya Rivera and rapper Big Sean were briefly engaged in 2014. He has not spoken out about Rivera's presumed death but he did like a series of tweets from fans who said that they were praying for her, according to Entertainment Tonight.
Rivera got her big break in the early 1990s when she landed a role in The Royal Family, which starred Redd Foxx and Della Reese. She also appeared in Family Matters, The Fresh Prince of Bel-Air, The Bernie Mac Show and Girlfriends. However, she would become a household name as Santana Lopez in Glee in 2009.  Rivera identified as "one-quarter African-American, one-quarter German and one-half Puerto Rican."
Our condolences go out to her family and friends.