Here's What The Democratic Candidates Had To Say About Racism, White Supremacy, And Reparations
Marianne Williamson turned heads when she detailed her $500 billion reparations plan.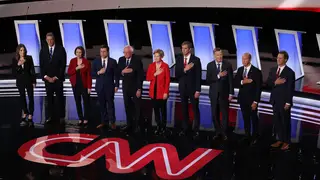 Throughout the evening, the candidates, who were all white, were tasked to explain their positions on the nation's biggest issues, including racism and reparations.
Though all of the candidates did not get a chance to explain how they plan to tackle racism and if they feel reparations are a practical idea, several of the night's biggest stars did go toe-to-toe on the issue.
Here's what the candidates on night one had to say.
RACISM

Beto O'Rourke, when asked how he plans to convince voters he can take on Trump and heal the racial divide in the country:

"We'll call his racism out for what it is, and also talk about its consequences. It doesn't just offend our sensibilities to hear him say 'send her back,' about a member of Congress, because she's a woman color, because she's a Muslim-American doesn't just offend our sensibilities when he calls Mexican immigrants 'rapists and criminals,' or seeks to ban all Muslims from the shores of a country that's comprised of people from the world over, from every tradition of faith.

"It is also changing this country. Hate crimes are in the rise -- every single one of the last three years, on the day that he signed his executive order attempting to ban Muslim travel, the mosque in Victoria, Texas, was burned to the ground.

"So we must not only stand up against Donald Trump and defeat him in this next election, but we must also ensure that we don't just tolerate or respect our differences, but we embrace them. That's what we've learned in El Passo, Texas -- my hometown. One of the safest cities in the United States of America, not despite, but because it's a city of immigrants and asylum seekers, and refugees."

Senator Elizabeth Warren on how she plans to combat the rise of white supremacy:

"We need to call out white supremacy for what it is: domestic terrorism. And it poses a threat to the United States of America. We live in a country now where the president is advancing environmental racism, economic racism, criminal justice racism, health care racism. The way we do better is to fight back and show something better."

"So I have a plan, for example, on education that says we have to build a better education system for all our kids, but we've got to acknowledge what's happened on race. So my plan has universal, tuition-free college for all of our kids, but also increases the Pell Grants and levels the playing field by putting $50 billion into historically black colleges and universities. 

"It cancels student loan debt for 95 percent of the kids with student loan debt and helps close the black-white wealth gap in America."

Mayor Pete Buttigieg, when asked how he plans to convince African-Americans should be the Democratic nominee given his record:

"As an urban mayor serving a diverse community, the racial divide lives within me. I'm not saying that I became mayor and racism or crime or poverty ended on my watch.

"But in our city, we have come together repeatedly to tackle challenges, like the fact that far too many people were not getting the help they needed in their housing and so we directed it to a historically underinvested African-American neighborhood.

"Right now, in the wake of a police-involved shooting, our community is moving from hurting to healing by making sure that the community can participate in things like revising the use of force policy and making sure there are community voices on the board of safety that handles police matters."

"I've proposed a Douglass plan to tackle this issue nationally, because mayors have hit the limits of what you can do unless there is national action. Systemic racism has touched every part of American life, from housing to health to homeownership. If you walk into an emergency room and you are Black, your reports of pain will be taken less seriously. If you apply for a job and you are Black, you are less likely to be called just because of the name on the resume.

"It's why I've proposed that we do everything from investing in historically red-lined neighborhoods to build black wealth in homeownership to supporting entrepreneurship for Black Americans."

Beto O'Rourke on slavery:

"I want to acknowledge something that we're all touching on, which is the very foundation of this country, the wealth that we have built, the way we became the greatest country on the face of the planet was literally on the backs of those who were kidnapped and brought here by force.

"The legacy of slavery and segregation and Jim Crow and suppression is alive and well in every aspect of the economy and in the country.

"Today, as president, I will sign into law a new Voting Rights Act. I will focus on education, address health care disparities, but I will also sign into law Sheila Jackson Lee's reparations bill so that we can have the national conversation we've waited too long in this country to have."

REPARATIONS

Marianne Williamson, when asked about her plan calling for "$500 billion in financial assistance" for reparations:

"First of all, it's not $500 billion in financial assistance. It's $500 billion, $200 billion to $500 billion payment of a debt that is owed. That is what reparations is. We need some deep truth-telling when it comes. We don't need another commission to look at evidence. I appreciate what Congressman O'Rourke has said. It is time for us to simply realize that this country will not heal.

"All that a country is, is a collection of people. People heal when there's some deep truth-telling. We need to recognize that when it comes to the economic gap between Blacks and whites in America, it does come from a great injustice that has never been dealt with. That great injustice has had to do with the fact that there was 250 years of slavery followed by another hundred years of domestic terrorism."

"What makes me qualified to say $200 billion to $500 billion? I'll tell you what makes me qualified. If you did the math of the 40 acres and a mule, given that there was four million to five million slaves at the end of the Civil War, four to five -- and they were all promised 40 acres and a mule for every family of four, if you did the math today, it would be trillions of dollars. And I believe that anything less than $100 billion is an insult. 

"And I believe that $200 billion to $500 billion is politically feasible today, because so many Americans realize there is an injustice that continues to form a toxicity underneath the surface, an emotional turbulence that only reparations will heal."

"I respond to that by saying that I am supportive of Jim Clyburn's legislation, which is called 10-20-30. And what that understands is that as a result of slavery, and segregation, and the institutional racism we see now in health care, in education, in financial services, we are going to have to focus big time on rebuilding distressed communities in America, including African-American communities.

"In terms of education, I also have a plan. It's called the Thurgood Marshall Plan. And it would focus on ending the growth of segregated schools in America. It would triple funding for Title I schools. It would make sure that teachers in this country earned at least $60,000 a year."