WNBA Player Riquna Williams Arrested On Domestic Violence Charges
The Las Vegas Aces star faces five felony charges and has been precluded from team activities.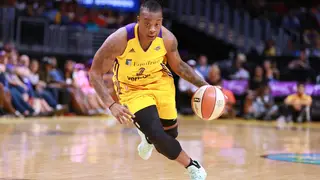 Williams appeared in court on Wednesday (July 26) where she faced five felony charges, including multiple counts of domestic battery by strangulation, coercion with the threat or use of physical force, and assault with the use of a weapon, per court records. Additionally, she faces four misdemeanor domestic battery charges.
According to the arrest report, Williams' wife, whose name has not been released, called 911 on Tuesday (July 25), and the Las Vegas Metropolitan Police Department was dispatched to their home. The couple explained to the police that they had a heated argument about ending their relationship after almost four years together. They were married last September, according to the Las Vegas Review-Journal.
Williams was accused of attempting to choke her wife and wielded a "heavy candle in one hand and a heavy metal stand in the other" to prevent her wife from leaving a bedroom, the report stated.
During her court appearance, Williams was released without bail because of her "ties to the community." As a part of her release, she was placed under alcohol monitoring because of concerns that alcohol use may have been a factor in the altercation and she can have no contact with her alleged victim.
During the court appearance, Judge Rebecca Saxe expressed concern over the seriousness of the charges that Williams is accused of.
"The court does have concerns regarding the extremely violent nature of the allegations in this case, that they were alleged to have occurred over an extended period of time," Saxe said.
Chief Deputy District Attorney Glen O'Brien also noted the nature of the charges adding that Williams was accused of "multiple violent allegations against her spouse."
Ryan Bashor, Williams's public defender, told the court that his client has lived in Nevada for the last five years and "there should be no issue with a no-contact order" since the alleged victim that Williams is accused of attacking "has already relocated."
Following the incident, the Aces released a statement acknowledging the matter and said Williams will be away from the team
"The Las Vegas Aces were made aware of domestic violence charges against a member of our team, Riquna Williams. As an organization, we condemn domestic violence of any kind," the statement read. "At this time, Riquna Williams will be precluded from participating in team activities.  Our thoughts are with the parties involved in this situation. We are currently gathering more information, and as such we will not have any further comments at this time."
"We are aware of the alleged incident and are in the process of gathering more information," a spokesperson for the WNBA added.
This incident is not the first time that Willaims has been accused of domestic violence. As a member of the Los Angeles Sparks in 2019,  Williams was suspended 10 games and ordered to go to counseling by the WNBA following a domestic violence incident in Florida involving an ex-girlfriend. The multiple felony counts were later dropped following her completion of a diversion program. That suspension is the longest suspension that the  WNBA had ever handed out.
Williams is scheduled to appear back in court on August 2.