Michelle Obama, Eric Holder Encourage Young Adults to Tackle Racism
First Lady Michelle Obama and Attorney General Eric Holder say there needs to be a national dialogue on race.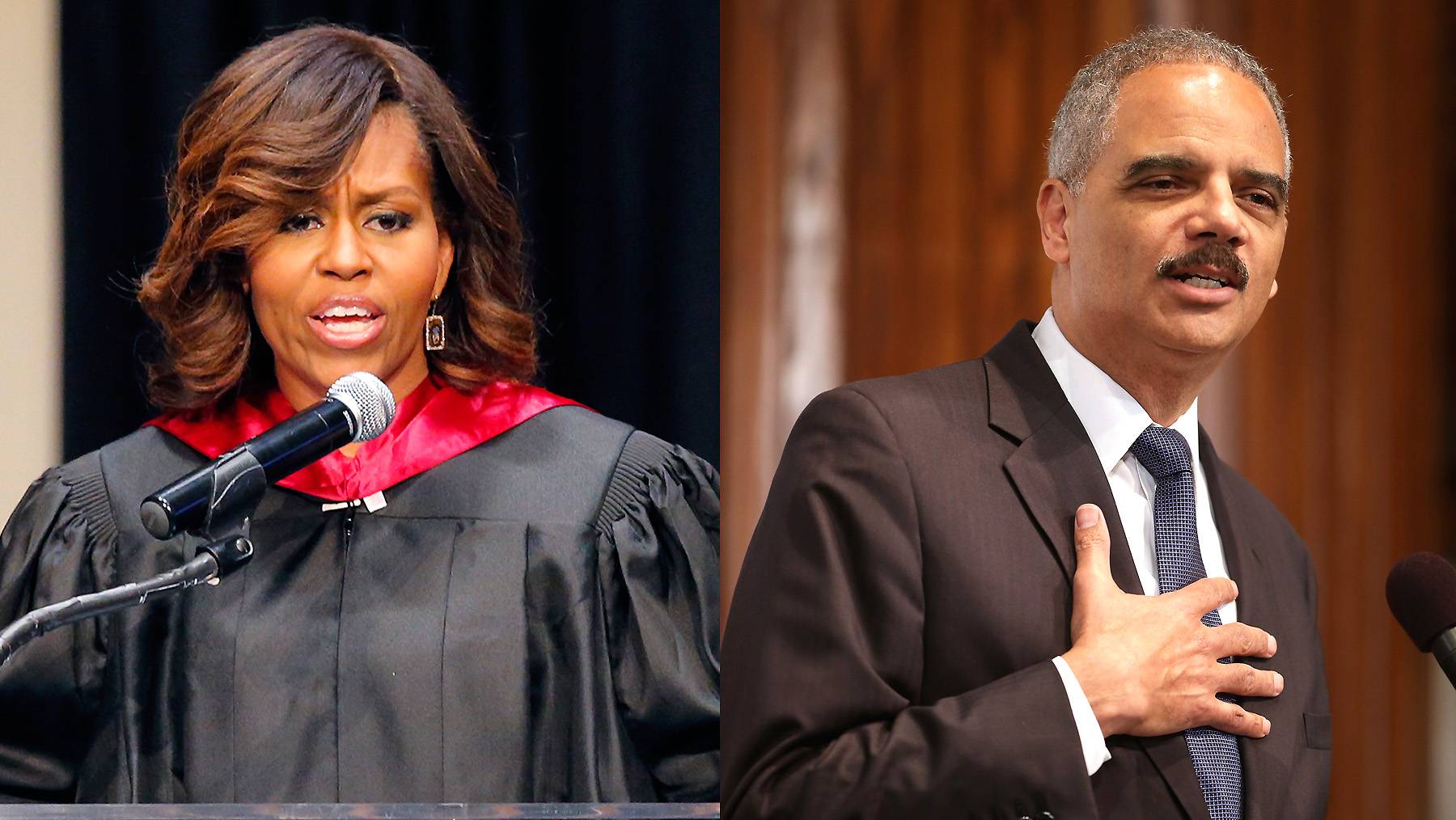 "This issue is so sensitive, it's so complicated, so bound up with a painful history," Obama said. "No matter what you do, the point is to never be afraid to talk about these issues, particularly the issue of race, because even today, we still struggle to do that."
Noting that discrimination is very prevalent, she added, "We know that today in America, too many folks are still stopped on the street because of the color of their skin, or they're made to feel unwelcome because of where they come from, or they're bullied because of who they love."
Obama challenged the students to help others see the world through a more inclusive lens, whether it's setting right a relative who tells off-color jokes or talks about "those people" or encouraging a fraternity or sorority to diversify its pledge class.
In his commencement address at Morgan State University, Holder, in an indirect reference to L.A. Clippers owner Donald Sterling and the Nevada rancher Cliven Bundy, cautioned that racism and discrimination comes in far more damaging forms.
"Policies that disenfranchise specific groups are more pernicious than hateful rants. Proposals that feed uncertainty, question the desire of a people to work, and relegate particular Americans to economic despair are more malignant than intolerant public statements, no matter how many eyebrows the outbursts might raise," the attorney general said.  "And a criminal justice system that treats groups of people differently – and punishes them unequally – has a much more negative impact than misguided words that we can reject out of hand."
Like the first lady, he challenged his audience to not be afraid to speak about race-based discrimination and other civil rights issues, no matter how difficult the conversation may be.
"Indeed – if our history is any guide – fostering a positive national dialogue is the best possible way to keep building on the achievements of our past as we look to the future," Holder said. 
BET Politics - Your source for the latest news, photos and videos illuminating key issues and personalities in African-American political life, plus commentary from some of our liveliest voices. Click here to subscribe to our newsletter.
(Photos from left: AP Photo/Orlin Wagner, Chip Somodevilla/Getty Images)