Kevin Hart And Ellen DeGeneres Meet Up Amid Talk Show Scandal
The two comedians met for lunch at the Rosewood Miramar Beach in California over the weekend.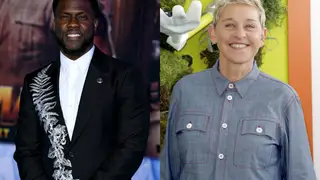 After speaking out in full support of Ellen DeGeneres amid her talk show scandal and investigation, Kevin Hart met up with the Daytime Emmy award-winner in California over the weekend.
People reports that the two comedians met up for lunch at Rosewood Miramar Beach in Montecito, California, a week after Hart used his social media platform to defend his long time friend who is being accused of having a toxic and hostile workplace culture on the set of her daytime talk show. 
"It's crazy to see my friend go thru what she's going thru publicly. I have known Ellen for years and I can honestly say that she's one of the dopest people on the f***ing planet," Hart said in his Instagram post on August 4. "She has treated my family and my team with love and respect from day 1. The internet has become a crazy world of negativity....we are falling in love with peoples down fall. It's honestly sad."
In 2019, DeGeneres stood by Hart when he faced controversy over homophobic tweets he posted in the past. Hart publicly stepped down from hosting the 91st Annual Academy Awards amid the Twitter scandal. 
Ellen's talk show is expected to return in September, People confirmed. Current and former employees of the show were recently interviewed following the viral Buzz Feed exposé that was published in July. 
Warner Bros. confirmed in a statement that "deficiencies related to the show's day-to-day management was found," and that moving forward they would "address the issues that have been raised."
"Warner Bros. and Ellen DeGeneres are all committed to ensuring a workplace based on respect and inclusion. We are confident this course of action will lead us to the right way forward for the show," the statement concluded.