Rev. Al Sharpton, NAACP President Derrick Johnson And More Discuss Productive Meeting With Joe Biden And Kamala Harris
The civil rights leaders promise that this is the first of an ongoing relationship with the new administration.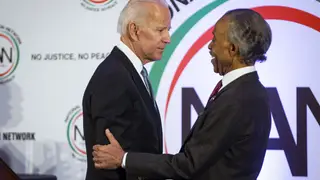 After nearly four years of civil rights leaders being ignored by the Trump administration, President-elect Joe Biden and Vice President-elect Kamala Harris had a nearly two-hour meeting with a group of prominent Black leaders.
The president-elect was joined by NAACP Legal Defense Fund's Sherrilyn Ifill, NAACP's Derrick Johnson, President and Founder of the National Action Network Rev. Al Sharpton and others. 
In a virtual press conference after the meeting, National Urban League's CEO Marc Morial said they discussed their joint priorities for racial equity and creating a diverse White House that represents America. However, Morial stressed the importance of holding Biden accountable.
Morial explained, "Today, we heard the president-elect reaffirm his commitment to racial justice, and we underscored that our job as historic civil rights leaders is to, one, help him and, number two, to hold him accountable." 
Sharpton added, "I think it was a very candid meeting, very blunt and we did not in any way pull any punches. In the things that I raised, I said he must not take light that he is succeeding the most racist, negative administration in memory."
She closed with, "This meeting was intended to make clear that racial justice must be at the center of the Biden and Harris administrations." 
The civil rights leader promised to meet publicly at least four times a year to brief the country on their meetings with the Biden administration.