Senate Strikes Bipartisan Deal on Unemployment Insurance Extension
Senate crafts legislation to extend expired unemployment benefits.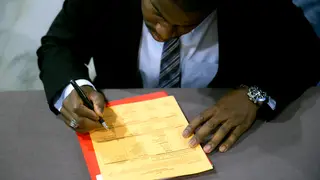 A bipartisan group of senators on Thursday struck a deal to retroactively restore long-term unemployment insurance. More than two million people have lost the benefit since it expired on Dec. 28.
The package, which would be paid for by an extension of U.S. Customs fees and changes to federal pension programs, includes provisions for job training and placement programs. It also prohibits laid-off workers whose previous year's gross income was $1 million or more from receiving unemployment benefits.
"Today, my hope is restored in our ability to work together to find solutions that help the American people," said New Jersey Sen. Cory Booker, one of the ten lawmakers who helped craft the deal. "This new legislation seeks to strengthen the U.S. economy while providing vulnerable job seekers and their families with a vital lifeline as they continue to look for work."
Lawmakers hope to bring the bill to the Senate floor for a vote at the end of the month.
The big question, however, is whether it can pass in the House, as Republicans have shown little appetite for reviving the extension. Democrats have been considering ways to force a vote in the chamber through a rare parliamentary maneuver called a discharge petition, which requires a majority of House members to sign on to support bringing an otherwise stalled bill from committee to the floor for a vote.
"We're talking about two million people who have lost their unemployment. What are they doing now? How are they surviving? They're living on the brink," said California Rep. Barbara Lee during a roundtable discussion with House Minority Whip Steny Hoyer and reporters. "It's morally wrong and economically stupid to not extend it. This is a key aspect of our poverty reduction/opportunity agenda. Until we create jobs and invest in other workforce training, people are going to need that bridge over troubled water."
BET Politics - Your source for the latest news, photos and videos illuminating key issues and personalities in African-American political life, plus commentary from some of our liveliest voices. Click here to subscribe to our newsletter. 
(Photo: Andrew Harrer/Bloomberg via Getty Images)