Atlanta-Area Prosecutor Fani Willis Fights Trump's Motion To Remove Her From Election Interference Case
Local law enforcement is preparing for a possible indictment against the former president.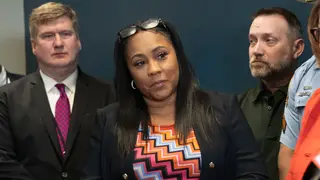 Fulton County, Ga., District Attorney Fani Willis, who is investigating former President Donald Trump for illegally trying to overturn his 2020 election loss in Georgia, asked a judge Monday (May 15) to dismiss Trump's motion to remove her from the case and his motion to suppress special grand jury evidence, local station WSB reports.
Willis argues in her response to Trump's motion that Georgia law provides no basis to remove her or to block the public release of evidence. She also noted in her 24-page response that Trump's legal team could have challenged her authority earlier in the process instead of waiting until the jurors recommended indictments in February.
In response to Willis' motion, Trump's legal team said she "failed to address several of the critical substantive issues" they raised, The Washington Post reports. They asked Fulton County Superior Court Judge Robert McBurney, who presided over the special grand jury, for a hearing to resolve the dispute.
Trump's team has also asked the Fulton County chief judge to remove McBurney from the case because he allegedly violated the rights of witnesses and investigators by giving improper legal guidance.
Meanwhile, local law enforcement officials are preparing for backlash over a possible Trump indictment. In April, Willis sent them a letter saying that she plans to make an announcement on charges between July 11 and September 1, CNN reported.
In January 2022, Fulton County Superior Court granted Willis' request to impanel a special grand jury to investigate whether Trump and his allies violated state laws in their efforts to overturn the 2020 presidential election in Georgia, including Trump's phone call to Georgia Secretary of State Brad Raffensperger asking him to "find" the needed votes to overturn the election.
In its final report, the jurors recommended indictments for multiple people, which forewoman Emily Kohrs said "is not a short list," according to The New York Times. The judge blocked the release of certain information, including the names of those recommended for indictment.
Under Georgia law, special grand juries lack indictment powers, the Associated Press reported. Willis must decide whether to pursue an indictment and then present her case to a regular grand jury.