Solange Knowles Opens Up About Hardships of Being a Single Working Mother
The Brooklyn magazine cover girl talks about her new hometown and juggling work, life and motherhood.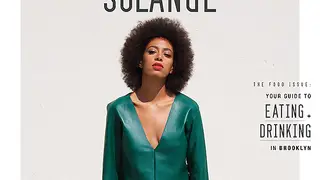 (Photo: Brooklyn Magazine, Summer 2013)

Solange Knowles seems to do it all. The singer has a new record label, Saint Records, through which she'll release her full-length album, can be found serving as DJ to some of the hottest parties, and is mom to an 8-year-old boy. But the "Losing You" singer, who's currently gracing the cover of Brooklyn magazine, says the key is getting help and turning some things down.
"[Motherhood] is definitely a balancing act, and it is not at all easy," she says. "I do the best I can, which involves a lot of saying no to things, actually, and a lot of really organized scheduling and a lot of help, to be honest. That was one of our major incentives to moving here. We were living in LA and I was writing and recording this album literally between the hours of 9 a.m. and 3 p.m. every day because that was the time that Juelz was in school. We were completely isolated, we didn't have any family or long-term friends there, and we didn't have that support system built in there that we have in New York."
Now that the single mother has settled into Brooklyn, she can count on friends and family like her mom Tina and sister Beyoncé to chip in when they can. Knowles is also happy that her son Juelz will get to grow up surrounded by loved ones like she did.
"You know, my parents are here, my sister is here, my cousin is here, all my friends are here. We really wanted Juelz to have the experience that we had growing up — being able to drop in on his aunt's house and being able to hang out with Grandma and see our friends and have that experience of actually having a soccer game and having family show up. It's such a beautiful feeling, but also having that village is a necessary reality so that I'm able to pursue my passion both outside of motherhood and outside of my career."
Plus, Juelz could help protect his little cousin Blue Ivy when she starts running all over the place.
Get ready for the BET Experience, featuring Beyoncé, Snoop Lion, Erykah Badu, Kendrick Lamar and many more. Go here for more details and info on how to buy tickets. Sign up now to attend free film screenings, celebrity basketball games and more.
BET.com always gives you the latest fashion and beauty trends, tips and news. We are committed to bringing you the best of Black lifestyle and celebrity culture.
Click here to subscribe to our newsletter.