Obama Talks State of Black Women at CBC Weekend
Watch POTUS go in on equal pay, mass incarceration and sexual assault.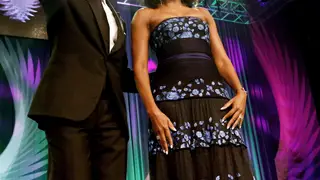 With the 50th anniversary of Voting Rights and the 20th anniversary of the Million Man March on the minds of Black Washington, President Barack Obama made Black women his focus this weekend.
At the 45th Annual Phoenix Awards Dinner, during this year's Congressional Black Caucus festivities, Obama had jokes that were rooted in some serious issues, like equal pay, mass incarceration, and what he calls the "sexual abuse-to-prison pipeline."
"I know it's late," he began. "You're ready for the after parties. I should have ditched the speech and brought my playlist."
However, none of this progress [13 million new jobs, more than 16 million Americans with health insurance, unemployment rate down to 5.1 percent right now] would have been possible without the CBC taking tough votes when it mattered most."
Obama then paid homage to those civil rights leaders who recently passed, "American heroes like Louis Stokes, and Julian Bond, and Amelia Boynton Robinson." He gave a special nod to Robinson and women like her.
"Women were the foot soldiers. Women strategized boycotts. Women organized marches. Even if they weren't allowed to run the civil rights organizations on paper, behind the scenes they were the thinkers and the doers ... they were subject to abuse, dehumanized, but kept on going, holding families together."
Women also hold a particularly important place in his personal life, he recognized. "I'm focusing on women tonight because I want them to know how much we appreciate them, how much we admire them, how much we love them. ... Because all of us are beneficiaries of a long line of strong Black women who helped carry this country forward." And, "Of course, they're also a majority of my household." 
Harkening back to his first act as POTUS (signing the Lily Ledbetter Fair Pay Act), he added, "It is an affront to the very idea of America when certain segments of our population don't have access to the same opportunities as everybody else."
Investing in job training for Black women and girls in STEM fields (math and science and engineering), raising the minimum wage, expanding tax credits that help working parents, closing tax loopholes for those who don't need it, and not threatening to shut down the government over Planned Parenthood were among the practical tactics he laid out.
"And before I go tonight" he concluded, "I also want to say something about a topic that's been on my mind for a while, another profound barrier to opportunity in too many communities -- and that is our criminal justice system."
The first President to ever visit a federal prison, when he went to Oklahoma this year, Obama said he was "struck" by the "crushing burden" mass incarceration places on communities. "It hollows out neighborhoods. It perpetuates poverty. ... That's why, in the coming months, I'm going to be working with many in Congress and many in the CBC to try to make progress on reform legislation that addresses unjust sentencing laws, and encourages diversion and prevention programs.
"... Many women in prison, you come to discover, have been victims of homelessness and domestic violence, and in some cases human trafficking," he said. "... So we're focusing on boys, but we're also investing in ways to change the odds for at-risk girls -- to make sure that they are loved and valued, to give them a chance."
He then made clear, "because somehow this never gets on the TV: There is no contradiction between us caring about our law enforcement officers and also making sure that our laws are applied fairly.
"If we keep moving forward, hand in hand," he said, "God willing, my daughters' children will be able to cross that bridge in an America that's more free, and more just, and more prosperous than the one that we inherited. Your children will, too."
BET Politics - Your source for the latest news, photos and videos illuminating key issues and personalities in African-American political life, plus commentary from some of our liveliest voices.
(Photo: Aude Guerrucci - Pool/Getty Images)