Deion Sanders' Team Blown Out by Oregon In First Loss of Season
The Colorado Buffaloes were trounced in a 42-6 defeat.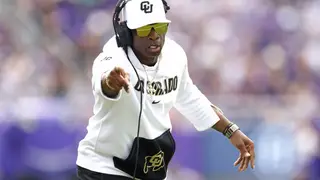 The Oregon Ducks were out to make a statement when they beat Deion Sanders' Colorado Buffaloes 42-6 on Saturday (Sept. 23).
"The Cinderella story's over, men. They're fighting for clicks, we're fighting for wins. There's a difference," Ducks' coach Dan Lanning told his team in front of ESPN's cameras, according to The New York Post. 
Quarterback Bo Nix threw three touchdowns against the Buffaloes while Troy Franklin caught eight passes for 126 yards and scored twice for Oregon.
After the game, Sanders called the loss a "Good old-fashioned butt-kicking."
"No excuses, no nothing," he added.
The Colorado program has attracted stars to watch the NFL Hall of Famer coach the team. Lil Wayne, Offset, The Rock and more have attended games. Former NFL star Terrell Owens was in the audience for the Buffaloes defeat.
Despite his initial fiery statements, Lanning was a bit more reserved in the post-game interview.
"I think that team's heading in the right direction. I think that coach is doing a phenomenal job," he said. "I get a little passionate at times. I need to humble myself a little bit. This is one game."
Sanders himself echoed the sentiment: "I don't think there's a target on our back."
He also pushed back against the idea that his players needed to be humbled.
"People around the country would say, 'This is what they needed to humble themselves,'" Sanders said of the loss. "We weren't arrogant or whatever, we're confident people. If our confidence offends your insecurity, that's a problem with you, it's not us."