Prisoners Incarcerated Over Marijuana Are Pushing Biden To Honor Campaign Pledge To Free Them
The new effort comes as cannabis proponents celebrate 4/20.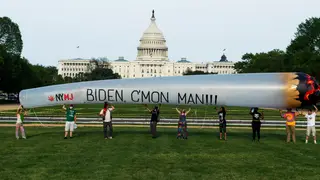 While supporters of marijuana legalization celebrate 4/20, an unofficial holiday surrounding the use of cannabis in society, many federal inmates who were jailed over marijuana charges are wondering when they will be free.
According to the The New York Post, around 2,700 inmates are behind federal bars on weed-related charges, and even though 18 states and DC now allow recreational use of the drug, two-thirds of Americans support legalization.
One of those incarcerated is 62-year-old Pedro Moreno, who is serving a life sentence after pleading guilty to distributing weed imported from Mexico from 1986 to 1996. He hopes that President Biden will make good on his campaign promise to free inmates convicted of non-violent marijuana-related crimes.
"I will die in prison for marijuana unless I receive executive clemency," Moreno told The Post. "All I can do is hope President Biden was sincere when he said he will free all the pot prisoners."
Recently, clemency advocates met with White House staff and Believe Biden may eventually intervene. That said, little action has actually taken place from the Biden Administration since taking office in January 2021.
"It's not easy keeping hope alive when year after year peels off the calendar and I see my grandkids growing up while I wait for a second chance," Moreno said. "I want to hug my daughter, Alejandra, and see her eyes light up with happiness. That's all I dream about — that's what keeps me going."
Luke Scarmazzo, 41, has served 14 years of a 22-year sentence for running a medical marijuana operation in California and told the outlet he's losing hope.
"When President Biden made those statements on the campaign trail, my family and I were very hopeful that our nightmare was finally coming to an end," Scarmazzo said. "We are now nearly two years into President Biden's term and we're wondering when he will make good on his promise."
Previously, Biden has noted that he does not support marijuana decriminalization. However, that didn't stop Congress from trying to act. Earlier in April, the House of Representatives voted to legalize marijuana with a bill that would remove pot from the Controlled Substances Act and let states set their own policies.