Study: Black Americans More Likely To Die From Certain Cancers
Prostate and breast cancers drive the higher mortality rate among Black men and women.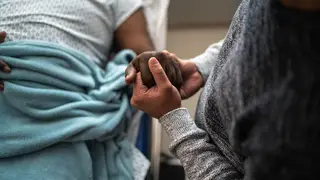 Black Americans are more likely to die from certain cancers than other races because of structural racism, according to a new study by the American Cancer Society.
ACS published "Cancer Statistics, 2023" on Jan. 12 in the peer-reviewed medical journal CA: A Cancer Journal for Clinicians. It found that White people had the highest overall incidence of cancer.
But sex-specific cases from 2015 to 2019 were highest in Black men – 5 percent higher than White men and 79 percent higher than Asian American and Pacific Islander (AAPI) men who had the lowest rate.
High overall cancer incidence in Black men is largely due to prostate cancer, which is 70 percent higher than in White men, two times higher than in American Indian/Alaska Natives (AIAN) and Hispanic men, and three times higher than in AAPI men.
The study showed that prostate cancer mortality rates in Black men are approximately two to four times higher than those in every other racial and ethnic group.
Among women, AIAN and White women have the highest cancer incidence, which is 10 percent higher than that in Black women, who rank third. However, Black women have a 12 percent higher cancer mortality rate than White women.
When it comes to breast cancer mortality, Black women have a 4 percent lower breast cancer incidence than White women, but Black women die from the disease at a 40 percent higher rate.
The report blames "longstanding inequalities in wealth" for the racial disparities in cancer occurrences and outcomes. Wealth inequalities lead to differences in risk factor exposure, access to prevention, early detection and treatment.
"Ultimately, disproportionate wealth stems from hundreds of years of structural racism, including segregationist and discriminatory policies in criminal justice, housing, education, and employment that have altered the balance of prosperity, security, and other social determinants of health," the report read.
There was some positive news in the study. The racial disparity gap between Black and White Americans in overall cancer mortality declined from a high of 33 percent in 1993 to 12 percent in 2020.
"Notably, progress is driven by faster declines in smoking-related cancers because of the steep drop in smoking initiation among Black teens from the late 1970s to the early 1990s, as opposed to targeted efforts to reduce inequalities," the report stated.
The annual report on cancer facts and trends projected 1,958,310 new cancer cases and 609,820 cancer deaths in the United States this year. ACS used incidence data collected by central cancer registries and mortality data collected by the National Center for Health Statistics.