Bring That Week Back: 'Sweetie Pie's' Star 'Tim' Norman Maintains His Innocence, Wendy Williams Is 'Formerly Retired' And Kobe Bryant Family Settles Lawsuit With L.A. County
Plus, Keke Palmer welcomes her first child with boyfriend Darius Jackson.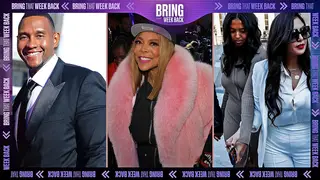 Black boy joy went viral. Keke Palmer is a new mom. Wendy Williams is officially tried. In case you missed any of the top news and trending stories, here is this week's Bring That Week Back.
'Welcome to Sweetie Pie's' Star James 'Tim' Norman Maintains His Innocence

Welcome to Sweetie Pie's star James "Tim" Norman insists he is innocent of conspiring to have his nephew, Andre Montgomery Jr., killed to collect on a life insurance policy. In a Feb. 23 Instagram post, he wrote, "I'm still in disbelief. The feds knew 100% I did not do those insurance policies. But the jury didn't get to hear that." In September, a St. Louis, Missouri, jury found Norman guilty and this week he was sentenced to two life sentences.

Wendy Williams Says She Is 'Formerly Retired'

While Wendy Williams fans have been hoping for a comeback after she left her popular talk show, the 58-year-old revealed she is retired. Speaking with a paparazzo in New York City, Williams said she is "formerly retired" and that she'd be interested in joining the "Hot Topics" table at The View. Wendy Williams has been publicly struggling with health issues over the past few years.

Viral Black Boy Joy Over Morehouse Acceptance

Amir Staten,  a 17-year-old senior at Germantown Friends School in Philadelphia, went viral after his reaction to being accepted to Morehouse College. He is seen running up a block in Philadelphia, clapping and jumping. His mother, Karlynne Staten, can be heard saying, "Congratulations, baby." Morehouse posted the video on their Instagram page, see all the Black boy joy above.

Keke Palmer Welcomes Her First Child

On Feb. 27, actress Keke Palmer announced on social media that she gave birth to her first child with her boyfriend, Darius Jackson. The 29-year-old posted "Born during Black History Month, with a name to match! LEODIS ANDRELLTON JACKSON, welcome to the world baby Leo." Jackson, also known as Darius Daulton, is the younger brother of Insecure star Sarunas J. Jackson, who played Alejandro "Dro" Peña on the HBO series. Congrats to the happy couple!

Officer Who Fired 16 Shots Into Breonna Taylor's Home Will Remain Terminated

Former Louisville Metro Police officer Myles Cosgrove, who fired 16 shots in Breonna Taylor's home, has been fighting to get his job back. However, according to WDRB, this week, Judge Melissa Bellows ruled that the court agreed with Cosgrove's termination, which was upheld by the Louisville Police Merit Board in December 2021. 

Bellows ruled the board had "substantial evidence" to fire Cosgrove and said in a statement, "Even normal citizens must exercise the 'highest degree of care' in ascertaining whether they are shooting at a legitimate target. Cosgrove seems to be arguing that he should be held to a less stringent standard than an ordinary Kentucky resident, despite having considerably more legal privileges. A normal citizen who violated these principles could be subject to criminal liability."

Lore'l Denies Calling Michael B. Jordan 'Corny'

Michael B. Jordan went viral earlier this week for calling out Morning Hustle host Lore'l on the red carpet, who happened to be a former classmate from Newark, New Jersey, for calling him corny. She told TMZ that she never bullied Jordan or called him "corny" "I just never said it. I defended him numerous times, just because of the fact that I did have a rapport with him." 

She also said he was teased over his name and carrying headshots, but everyone was teased, including herself. According to Madame Noire, during a February 2021 Undressing Room podcast co-host Dominique da Diva ​​is the one who said Jordan seemed like "a nice, corny guy."

Kobe Bryant Family Settles Lawsuit With L.A. County For $28.5M

Vanessa Bryant and her family have settled with Los Angeles County after a sheriff deputy was accused of taking helicopter crash scene photos of Kobe Bryant in January 2020. According to CBS, Los Angeles County will pay $28.5 million. Vannesa Bryant will receive $15 million, which she was awarded in August, and the rest will be given to his three surviving daughters, Natalia, Bianka, and Capri. 

Bryant's attorney said in a statement, "Today marks the successful culmination of Mrs. Bryant's courageous battle to hold accountable those who engaged in this grotesque conduct. She fought for her husband, her daughter, and all those in the community whose deceased family were treated with similar disrespect. We hope her victory at trial and this settlement will put an end to this practice."

Pennsylvania House Elects Joanna McClinton As First Female Speaker

On Feb. 28, Pennsylvania state representative Joanna McClinton made history as the first Black woman in the commonwealth to be elected House Speaker. McClinton, a Philadelphia resident, and eight-year Democratic member received 102 votes for speaker. State Rep. Carl Metzgar, a Republican from Somerset, was the only other candidate for the position and received 99 votes. Although McClinton is the first woman to lead the Pennsylvania chamber, she's the second Black. 

The first in the role was Pittsburgh's K. Leroy Irvis, who was elected speaker for the first time in 1977 and held the position for nearly eight years over two terms.