Oldest Living Tulsa Race Massacre Survivor Viola Ford Fletcher Publishes Memoir
Out of fear, she never spoke about what she witnessed as a 7-year-old child.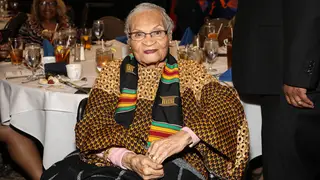 Viola Ford Fletcher has lived to see it all, but now she is breaking her silence about one of the worst things she can't unsee.
At the age of 109, she is releasing a memoir about her life and how she survived the 1921 massacre that occurred in Tulsa, known as Oklahoma's Black Wall Street, according to The Associated Press.
The historian told the news outlet that although the riots led by an angry mob of white men happened over 100 years ago, she never spoke out about what happened in fear for her life. That is, until now.
"Now that I'm an old lady, there's nothing else to talk about," Fletcher tells The AP. "We decided to do a book about it and maybe that would help."
Fletcher was only 7-years-old when she saw the tragedy unfold, and her new book  Don't Let Them Bury My Story will revisit those painful memories in an effort to preserve the past, no matter how grim it is.
Set back to that wretched day on May 31, 1921, her novel takes a trip down memory lane to the troubling dynamics between Black and white residents in the aftermath of a news report that alleged a 19-year-old Black shoeshine assaulted a 17-year-old elevator operator.
Not long after, the shoeshine was arrested, while a Black militia gathered in support of his safety in efforts to prevent him from being kidnapped, and worse, murdered.
That day culminated 18 hours later when an enraged mob set out to destroy the town that left upwards of 300 Black people dead, 35 blocks leveled, 191 businesses decimated and 10,000 Black residents displaced.
"The questions I had then remain to this day," she writes in the book, according to The AP. "How could you just give a mob of violent, crazed, racist people a bunch of deadly weapons and allow them — no, encourage them — to go out and kill innocent Black folks and demolish a whole community?"
"As it turns out, we were victims of a lie," she writes. The book is slated to be available for purchase on August 15, the report notes.