Shaq, Steph Curry Snag Oscar For 'The Queen Of Basketball' Documentary
The film tells the story of Lusia Harris, the first woman drafted by an NBA team.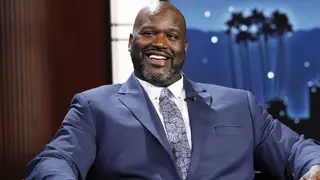 Lusia Harris' legacy is now solidified in Oscars history.
As one of the executive producers of the The Queen of Basketball documentary, which tells the story of the trailblazing basketball legend's life, Shaquille O'Neal got to celebrate the film winning an Academy Award for Short Subject Documentary on Sunday (March 27).
The Queen of Basketball paired Shaq with fellow basketball legend Stephen Curry as executive producers on the 22-minute film. With the Oscar win, O'Neal follows in the footsteps of his NBA Hall of Fame counterpart and former Los Angeles Lakers teammate Kobe Bryant, who in 2018 won an Oscar for Best Animated Short Film for his project, Dear Basketball.
Harris passed away two months ago, before the Academy Award nominations were announced and sadly didn't live to see the film about her life win the prestigious prize. She scored the first basket in Olympic women's basketball history, helped the United States win the silver medal in the 1976 Games, and was the first woman officially drafted by an NBA team. Ben Proudfoot directed the short, which educated even some very ardent basketball fans on the story of the trailblazer.
"If there is anyone out there that still doubts whether there's an audience for female athletes and questions whether their stories are valuable or entertaining or important ... let this Academy Award be the answer," Proudfoot said at the award ceremony in Los Angeles, according to KABC-TV.
Earlier this month, Shaq admitted he "didn't know who [Harris] was at first." That said, the film and its involvement with O'Neal and Curry, helped her story reach a wide audience.
In addition to her Olympic accolades, Lusia Harris was also the first Black woman inducted into the Naismith Basketball Hall of Fame in 1992.
A Minter City, Mississippi native, Harris put Delta State on the women's basketball map as she helped lead the university to national titles in 1975, '76 and '77 during the AIAW era of the sport.
The Queen of Basketball was distributed by the New York Times and can be streamed on its YouTube channel: