Keyshia Ka'oir Details How She Went From A 28-Inch To An 18-Inch Waist
How Sway?!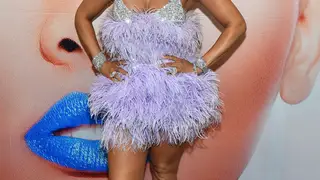 Keyshia Ka'Oir is snatched! Yes, the makeup mogul and former model who began the glitter lip trend, took to the 'Gram to show off her waist that is 18 inches all the way around. 
The fitness guru says that she got that tiny and shapely physique from eating well, plenty of exercises and using her line of fitness clothing and waist trainers that guarantees to get you all the way together.
Don't believe us? Ask her husband, rapper Gucci Mane.
Since Gucci Mane's release in 2016, he went from chunk to a hunk, frequently showing off his ripped abs and slimmer physique. 
According to the Ka'Oir Fitness website, the "Waist Eraser" waist trainer will help you burn 150 calories of belly and back fat in 40 minutes with exercise. It will assist in shedding excess water weight and keeps your muscles nice and warm. 
She even has a few people posted on her Ka'Oir Fitness Instagram account that says the Waist Eraser has helped them tremendously slim their waist.
Does this inspire you? Yeah us too.
To get the Ka'Oir Waist Eraser, it will cost you $69.99.