Wiz Khalifa Went Off On Two Los Angeles DJs During Live Performance, DJ Capri Speaks Out
The rapper's comments have left the DJ community split.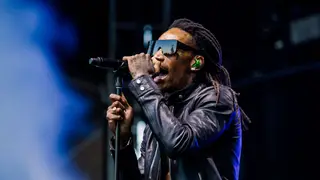 Disc jockeys across the industry are speaking out after rapper Wiz Khalifa recently went off on two Los Angeles DJs during a concert after they refused to play records from his latest album Multiverse, which debuted last month. The "MVP" rapper blasted DJ Mike Danger and MC Tron, labeling them "horrible DJs," and even threatened to get violent.
In a clip that has since gone viral, Wiz could be heard yelling, "Bitch a** n****, if you wanna fight, n****, we can do it. Y'all n****s, suck, don't hug me b-tch. Y'all n****s, suck. Play my new shit n****, play it n****, play 'Bad A– B-tches.' Y'all are horrible DJs. I came here tonight to promote for y'all and have a good ass time and have a great time, but you know what I'm not gonna do?"
He added: "I'm not gonna sit here and let these h-e a– n****s act like this sh-t is acceptable. I'm a real a** n****sdawg. My album just came out today. My album just came out today. Play my new s**t dawg."
The Pittsburgh native has received immense backlash from members of the DJ community over  his behavior, including DJ Kid Capri, who said he was stunned, noting that he had met the rapper in passing and thought he was a "cool dude." That's why I'm a little surprised why you would disrespect those DJs like that," Capri admitted in an Instagram video.
Capri defended the DJs, stating, "Those kids is young dudes, probably, you know, scared and nervous that they playing for you, happy that they're playing for you. [They're] probably not as professional and on-point as you are, but for you to stand up there and disrespect them like that, man, that was just crazy."
"It be stuff like this [Wiz incident] that minimizes what the DJ is," he continued. "I don't know if you was lit or drunk, or whatever the case may be, but if that was me and you spoke to me like that, I'd have swung on you right away. Immediately. And we would have dealt with it however we'd have to deal with afterwards. But I wouldn't have went for that."
However, radio personality Bootleg Kev defended Wiz on Twitter, claiming that he was there and "the DJ &host  TERRIBLE." He also accused the emcees of seemingly sabotaging Wiz's performance. Kev said he wasn't "condoning him slapping the hat off or none of that, and I know he regret that. But so much led up to that point. Context is IMPORTANT."
Check out the incident below.