Missouri Athletic Director Says South Carolina Fans Yelled The N-Word At Women's Basketball Players And Spit On Them During A Game
And Jim Sterk feels like South Carolina coach Dawn Staley "promoted that kind of atmosphere."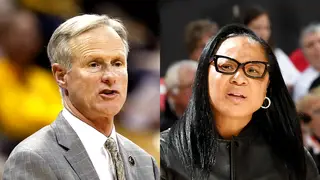 A heated rivalry is one thing, but one athletic director is claiming that the atmosphere at the University of Missouri-University of South Carolina women's basketball game Sunday extended way past that and got extremely ugly.
Missouri athletic director Jim Sterk told KTGR radio's "The Big Show" Tuesday, as reported by ESPN, that fans in Columbia, South Carolina, called Missouri players the N-word and spit on them during the game. And Sterk went as far as to say that South Carolina coach and former WNBA player Dawn Staley "promoted that kind of atmosphere."

"It wasn't a great atmosphere. It was really kind of unhealthy if you will," Sterk told "The Big Show" on KTGR radio as reported by ESPN. "We had players spit on and called the N-word and things like that. It was not a good environment. And unfortunately I think Coach Staley promoted that kind of atmosphere, and it's unfortunate that she felt she had to do that."
After No. 9 South Carolina beat No. 11 Missouri, 64-54, in a physical game, which included two Missouri players being ejected, a former Tigers player corroborated part of Sterk's claim by tweeting that Missouri players were spit on as they left the court, as reported by ESPN.
"I was really disappointed with some things that transpired," Missouri women's basketball coach Robin Pingeton told the St. Louis Post-Dispatch. "There's no place in our game for that. Fans got to be better all around. Our side, their side, everybody's side. Fans got to be better. These are daughters playing a game they love to play. There were certainly some things that were really unfortunate that transpired, not only verbally and some other things (spitting) you alluded to. It's really unfortunate. But you've got two fan bases that are passionate and just got to clean it up a little bit."

In response to Sterk's claim, South Carolina athletic director Ray Tanner said his school conducted an investigation, which didn't confirm Missouri's allegations.
"The commitment to a secure environment for everyone at our home games, including fans, student-athletes, coaches and staff from the home and visiting teams is of the utmost importance," Tanner said in a statement as reported by ESPN. "In anticipation of this rivalry game, the athletics department provided security for the Missouri basketball team, above its standard operating procedure. Upon hearing the accusations regarding our crowd's behavior towards the Missouri team, the athletics department conducted a review of our operations from the game, including interviews with staff and security personnel. In this review, we received no confirmation of the alleged behavior directed at the visiting team by fans at the game."
BET Sports News — Get the latest news and information about African-Americans in sports, including weekly recaps, celebrity news and photos of your favorite Black athletes.