Eggplant Madness: A Former 'L&HH' Star Reveals His Package for the World to See
He says it's all in the name of "art."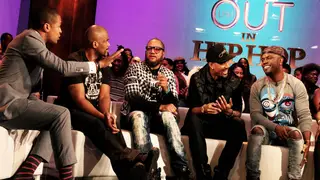 While it seems as the female cast members of the popular Love & Hip Hop franchise would be more expected to strip down to their skivvies — or less — for a photo shoot, it appears as the tables have turned, as one of the men has recently stripped down to his birthday suit for the cover of a magazine.
Former Love & Hip Hop: Hollywood star Milan Christopher showed that he's not shy about any part of his physique by posing completely nude both on the cover of Paper magazine and all throughout the cover shoot — we're talking full frontal nudity.
Take a look at the censored photos, below:
When asked what inspired him to whip out his schlong for the shoot, Milan explained that he did it all in the name of art and fashion, continuing that he wanted to ditch the misconception that only women are allowed to be "artistically nude," without looking crude.
"I just feel like in our culture, it's so taboo for a guy to show their bodies but it's OK for a woman to do it," he said. "I just kinda want to break that. I think I have a nice body and I think it's art and I just think that it should be celebrated like they celebrate women's bodies. So you know, I could be a guy and be gay and be Black and be artistic and be artistic in a nude fashion shoot in the same way that anybody else could."
Milan also feels like he accurately represents gay Black men with his brand, telling the publication, "I think it's not that many gay guys who are African-American who are out and who are comfortable? Right now, I can probably name about five."
In fact, he is really proud of how he's faring with that responsibility: "I do think that I have a huge [responsibility for] representation of the community and I do think that I'm doing pretty well," he continued. "I'm always being honest and being my authentic self, not really holding back and just putting my best face forward and trying to make things happen."
On a lighter note, the former reality star also revealed which famous public figure he's currently crushing on.
"My dream date... would be with Odell Beckham," he said. "He's so fine. And we probably would just chill out at a pool, at a really nice house in the hills. And just eat and chill and talk by the pool."
See the full uncensored shoot, at your own risk, here.
See who recently joined the cast of L&HHH with BET Breaks, above.