Amir Locke's Cousin Arrested In Homicide Investigation That Resulted In Botched 'No Knock' Warrant
The 17-year-old is reportedly Locke's cousin.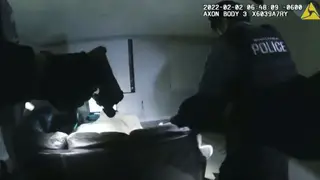 A 17-year-old has been arrested in the homicide investigation that resulted in the "no knock warrant," which resulted in the fatal shooting of Amir Locke.
According to NBC News, the suspect was arrested on Monday (Feb. 7) at approximately 3:45 p.m. in Winona, Minnesota for the fatal shooting of Otis Elder on Jan. 10. His name has not been released because he is a minor. However, Locke's family confirmed in a statement that the suspect is his cousin.
The family also stated, "All available information confirms that Amir was never a target of that investigation or those search warrants. We must remain focused on the fact that Amir was an innocent young man of a raid gone terribly gone, who is now the latest statistic and victim of the dangerous and intrusive no-knock warrant techniques that must be banned."
On Feb. 2, the Minneapolis Police Department SWAT team botched a surprise raid of an apartment, which resulted in the fatal shooting of Amir Locke. Officers, using a key, entered the unit where Locke, 22, was seen apparently sleeping on a couch in a graphic and brief body camera video. Locke was shot within 10 seconds of the encounter. MPD Interim Police Chief Amelia Huffman confirmed last Thursday that Locke was not named in the original warrant.
The body cam video shows the officers quietly turning a key to the apartment door before they started to shout, "Police. Search warrant." One officer kicked the couch where Locke was under a blanket and a gun became visible.
According to The New York Times, the police fired at least three times, and Locke died of multiple gunshot wounds. The outlets also reported police had obtained both knock and no-knock warrants for searches at three units in the apartment complex, which gave officers the latitude to decide which type of warrant to use.
On Friday, Feb. 4, Mayor Jacob Frey imposed a moratorium on both requests for, and executions of, no-knock warrants following Locke's death. Authorities planned to consult with experts involved in creating Breonna's Law, which limits the use of surprise warrants in Kentucky. It's named for Breonna Taylor, the 26-year-old EMT who was fatally shot in March 2020 by Louisville officers in a botched police raid on her home.
Protesters are calling for the interim police chief to be fired and for Mayor Frey to resign.