Who's The G.O.A.T. Rap Crew? Ruff Ryders vs G-Unit | Round 2
In the tournament to decide the greatest rap crew of all time, this Round 2 battle is a Big Apple bout between Ruff Ryders and G-Unit.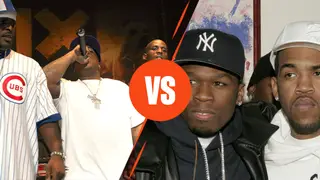 In recognition of hip hop's 50th anniversary, BET Digital, in partnership with Ambrosia For Heads, is celebrating the culture by hosting a bracket-style competition that allows you to determine hip hop's greatest crew.
Rather than having "experts" tell you who is the greatest of all time, this is your opportunity to collectively make that decision. After giving the opportunity to any and all fans to provide feedback on which crews should be included, 32 collectives from different regions, styles, and generations have been selected—all vying for that #1 spot. When the final battle is over and the last vote is cast, you will have determined who is your Greatest Rap Crew of All Time.
In this celebration of hip hop and all of its talented crews, your vote decides the winner, so vote below.
Who's The G.O.A.T. Rap Crew? Ruff Ryders vs. G-Unit | Round 2
Both the Ruff Ryders and G-Unit are testaments to tenacity. The superstar figureheads of each of these crews had disappointing experiences in the industry. DMX and 50 Cent had each signed to Sony Records, which, despite singles, did not deliver their debut albums while signed. 
After those years of waiting, DMX and 50 Cent became juggernauts on their terms—releasing chart-topping debuts. When they seized the opportunity, they put on other artists who could relate to the drive, the struggle, and the will to win. Great and enduring artists, including Jadakiss, Lloyd Banks, Eve, and The Game, emerged from these respective movements. While X and Fif worked together in the early 2000s, The LOX and G-Unit clashed for a time before eventually making peace in the last decade. Both entities are New York City crews with hardcore hip hop roots and the ability to be commercially successful without compromising. The Ruff Ryders stunted on the Bad Boy Family in Round 1, while G-Unit backed down Roc-A-Fella to win their first battle. This Round 2 matchup promises to be as rugged as the crews doing battle. Only one squad makes it to Round 3, so vote with care.
Ruff Ryders
(defeated the Bad Boy Family in Round 1)
Rap fans could hear the Ruff Ryders coming, just like the motorcycles, ATVs, and dirt bikes associated with their videos. After years on the grind, DMX gave the crew a 1998 takeover with not one but two #1 albums, including a name-brand hit in "Ruff Ryder's Anthem" and its squad-showcasing remix. Rugged raps, bike stunts, and growling at the camera created the perfect aesthetic for a hard-nosed rap crew from Yonkers.
These MCs are unapologetic, abrasive, and almost always backed by top-quality production. This collective yielded a superstar producer and personality in Swizz Beatz, nephew to the crew's OG's, Joaquin "Waah," Darin "Dee," and Chivon Dean. Drag-On's debut went gold, while the MC joined DMX on screen in two films. While most crews see even their core challenged by time and fame, the Ruff Ryders exude the loyalty reserved for family.
G-Unit
(defeated Roc-A-Fella in Round 1)
During the 2000s, 50 Cent and his cohorts took G-Unit from a mixtape brand to the top of the charts. Along the way, G-G-G-G-Unit became one of the biggest battle cries in rap, as well as a label, a clothing company, and a film division. The movement launched around the aptly-titled 2002 DJ Whoo Kid mixtape "50 Cent Is The Future." Rapping to industry beats, the Queens, New York trio of 50, Lloyd Banks, and Tony Yayo prophesied an industry takeover.
Nashville's Young Buck was the lone guest in the days before he would formally join the collective. That same month, 50 signed with Eminem's Shady Records and immediately brought his crew into the conversation. 2003's "Get Rich Or Die Tryin'" became a nine-times-platinum debut, with G-Unit peppered throughout. 2003's "Beg For Mercy" was another statement album, bringing the whole crew—now including Buck—into sharper focus.
During his brief but memorable stint in the G-Unit family, The Game released two Top 5-charting collaborations with 50, "How We Do" and "Hate It Or Love It," while Banks had his own Top 10 tandem success with "On Fire."
Other artists in the bi-coastal crew eventually included Mobb Deep, Spider Loc, and, at times, New Orleans' Kidd Kidd. These artists and others collaborated on mixtapes and compilations. At their core, 50 Cent, Tony Yayo, Lloyd Banks, and DJ Whoo Kid remained tightly knit for nearly a decade and a half. As a reflection of the G-Unit's lasting impact 20 years later, Yayo guested on Lloyd Banks' 2022 album, and the brand exists on television.
---
EDITOR's NOTE: Register for the sweepstakes for a chance to win the grand prize of two (2) tickets to the 2023 BET Awards, two (2) round-trip airline tickets, and a 2-night hotel stay on June 25. Up your chances to win by voting weekly.
NO PURCHASE NECESSARY TO ENTER OR WIN. VOID OUTSIDE OF THE 50 U.S. & D.C. AND WHERE PROHIBITED BY LAW. Open to legal residents of the 50 U.S. & D.C. who are 18 years of age or older at the time of entry. Ends at 12:00 p.m. ET on May 1, 2023. Official Rules: bet.com/grcoat-official-rules  Sponsor: Black Entertainment Television.