Congresswoman Maxine Waters Calls Trump #ConManDon In String Of Tweets
The representative also said the president should be impeached.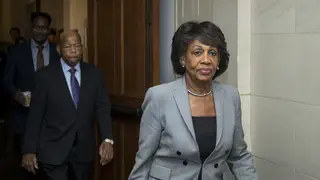 As the partial government shutdown, which became the longest in U.S. history over the weekend, continues, Congresswoman Maxine Waters slammed Donald Trump on his favorite app, Twitter. 
In a series of critical tweets aimed at the president and his alleged connection with Russian operatives, Waters called Trump "Con Man Don" and said he should be impeached. She also predicted that he will lose all of his supporters if he continues withholding paychecks from federal workers. 
"Trump, even your most vocal defenders will turn on you w/ your shutdown when there's no food on the table, the rent is not paid, the car is repossessed, & the children need shoes. No American who works for our govt should be treated this way while you are living off the govt," tweeted Rep. Waters. 
She then brought up Trump's connection to the Kremlin, which the FBI opened an investigation into after the firing of former director of the FBI James Comey.
"No surprise the FBI questioned Trump's allegiance to US! He meets w/ Putin 5 times in secret w/ no readout; gave Russians classified info in WH; disregarded US intel on Russia; praised Putin's election; lies abt his deals in Russia. Is there any question Trump is a Russian agent?" she added.
Also in her tweets was a call for impeachment, which she has often said in the past. 
"Is Trump a Russian agent? If it walks like a duck & talks like a duck, then it is a duck - and the duck should be impeached," Waters tweeted.
Immediately after Trump fired Comey as FBI director, the agency under Andrew McCabe investigated whether the president was working on behalf of Russia against American interests, reported the New York Times.
The probe sought to determine if Trump wittingly worked for Putin or was unwittingly embroiled in a Russian affairs.