Congratulations!: Zonnique Pullins Gives Birth To A Baby Girl
First-time grandmother, Tiny Harris couldn't contain her excitement on social media!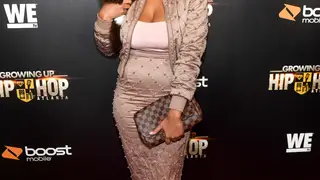 Congratulations to Zonnique Pullins and her rapper boyfriend Bandhunta Izzy, who just welcomed their first child together!
"Somebody is missing, as you can see. Our girl, Zonnique is not here because…guess what? She had the baby," Romeo Miller shared with excitement on The Mix, before revealing that the new mom gave birth Wednesday morning.
While details are limited at this time, we do know the newborn baby girl was born at 6:27 am, weighing in at 8lbs 8oz.
Excited about the arrival of her first grandbaby, Tameka 'Tiny' Harris announced the news via social media. 
"Congratulations to my first [love] my LuvBug [Zonnique]," the proud grandmother wrote on Instagram. "My Gbaby is so fat & cute!! Just as I dreamed she would be!! I told y'all today was a very Blessed day straight from God! And yes, I just loved this video so I had to!!"
So sweet! We honestly cannot wait to meet the new addition.
In the meantime, we already know that the little one will have a name to remember, thanks to Grandma Tiny. 
"My mom has definitely been coming up with some names," the 24-year-old singer shared during an August 2020 episode of HollywoodLife TV Talk. "My mom loves everything about this process, but she loves giving names out. She prides herself on our names, all of her children. She's like, 'I'm definitely the best with names,' so I'm definitely looking towards my mom with that."
There's nothing like family support. Sending well-wishes to the happy couple!