BET Awards 2022: Five Times Doja Cat Proved She's An R&B Stunner Who's Here To Stay
The internet-savvy star has talent, originality and SZA on her side.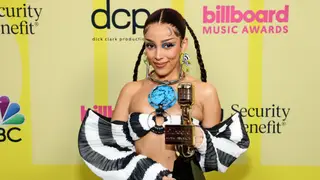 Not many legit musicians can say they launched their careers by dressing up as a sexy cow and stuffing French fries up their nose. But Doja Cat—born Amala Ratna Zandile Diamini in LA, did just that when her single "Mooo!," turned into a popular meme across the internet garnering her over 86 million views on YouTube. The song may have been a novelty, but her career since then has been no joke. 
In January 2020, Doja's song "Boss B*tch," dominated the soundtrack to the Harley Quinn movie "Birds of Prey," and her single, "Say So" went to #1 on Billboard in May 2020. Once again, she hit social media gold when "Say So" spawning a million dance videos on TikTok. On top of all her musical wins, she's a powerhouse influencer across various platforms with millions of followers who can't get enough of her fun, hyper-creative style.
Here are five reasons why Doja Cat is a new artist with staying power. 
She keeps racking up awards

Men lie, women lie, numbers don't. And the stats on Doja Cat speak for themselves: two BET awards nominations (for Video of the Year and Best Female Hip Hop Artist) in 2020 and a recent win at the Billboard Music Awards for Top R&B Female Artist.

Her collabs are elite

It's not the fans who love Doja Cat's provocative bubble-gum aesthetic—her peers have mad love for her, too. She's crafted top-notch bangers with some of the hottest artists out today, including SZA, The Weeknd, Ariana Grande, Saweetie and more. SZA told V-Magazine that working with an Doja Cat was a dream come true. There's speculation a collab with Grammy Award-winning, H-Town rapper Megan Thee Stallion is in the works for her upcoming project: Planet HER, according to her interview with Capital FM radio.

She is a proud fashionista

Known for pulling off flashy and fashion-forward looks with ease, Doja Cat is becoming a major figure in style. Not too long ago, she teamed up with U.K. based fashion company Pretty Little Things for her own collection of summer-appropriate attire. "This is the beginning of something really special for me and I hope everyone enjoys this creation as much as I do! A beautiful pop of color for summer and wearable pieces for all year round," Doja said about the collection.

She finds inspiration in all the right places

Crediting artists like Gwen Stefani, Christina Aguilera, Busta Rhymes, Drake, and Janet Jackson with being her influences, Doja Cat has learned from the best. "I mean I went to art schools and whatnot. But I feel like when I watch people like Beyonce or Janet or anybody on stage, doing what needs to be done, I genuinely smile and look at it like, "This is perfect," Doja Cat said during an interview with V-Magazine.

She recently copped a million dollar home

You know you've truly arrived as an artist when you cop your first luxury home. The up-and- coming pop star just purchased a new, mid-century home in Beverly Hills for a whopping $2,185,000, according to a report from SFGate.