BET Responds To Lil Nas X Claims About Lack Of BET Awards 2022 Noms
An independent voting academy determines which artists are nominated throughout the various categories.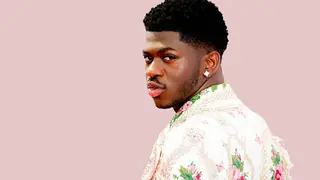 BET, a subsidiary of Paramount Global,  has issued a statement in response to Lil Nas X's latest claims on social media about not receiving any nominations for this year's BET Awards. After posting a video expressing his frustrations through music, the nation's leading provider of quality content from Black creators provided further explanation into the voting process and its relationship with the LGBTQIA community.
"We love Lil Nas X. He was nominated for a Best New Artist BET Award in 2020, and we proudly showcased his extraordinary talent and creativity on the show twice: he performed "Old Town Road" with Billy Ray Cyrus at "BET Awards" 2019 and his "BET Awards" 2021 performance was a highlight of our show. No one cheered louder that night than BET.
Unfortunately, this year, he was not nominated by BET's Voting Academy, which is comprised of an esteemed group of nearly 500 entertainment professionals in the fields of music, television, film, digital marketing, sports journalism, public relations, influencers, and creative arts. No one from BET serves as a member of the Voting Academy," the company said in a statement.
"At BET, we are passionate advocates for the wonderful diversity that exists within our community. We are committed to using all of our platforms to provide visibility and inclusion for all of the many intersections of the Black community."
Music artists are submitted for consideration by their respective record labels within the defined eligibility period, and this year, Lil Nas X and other artists were put forth in consideration for a number of categories for the BET Awards 2022. After a history-making performance at the BET Awards last year, the company says it will continue to support Lil Nas X's artistry, creativity, and musicality.
Watch the BET Awards 2022 on June 26 at 8/9C p.m.
---
EDITOR's Note: BET is one of the most well-known Black consumer brands worldwide, with multi-platform business extensions including BET Digital, BET's social platforms and BET.com.