Study: Minorities Will Gain Ground in Homeownership Rates
By 2025, people of color will make up one-third of homeowners.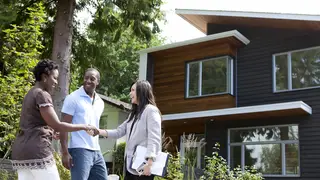 A study by the Joint Center for Housing Studies of Harvard University found that by 2025, one-third of all households will be owned by minorities.
Also, almost half of all first-time buyers will also be minorities, many of which will be ages 25 to 34.
The study does warn "that the numbers depend importantly on mortgage availability, given the limited incomes of many minorities," according to Reuters.
Overall, the number of households is believed to increase to 122 million by 2025, according to the study.
The change predicts that the millennial generation will leave their parents' homes and become homeowners themselves.
BET National News - Keep up to date with breaking news stories from around the nation, including headlines from the hip hop and entertainment world. Click here to subscribe to our newsletter. 

 (Photo: Getty Images/Blend Images)