6 Ways To Make 2023 The Best Year Of Your Life!
We're encouraging you to have an amazing year by rethinking your wellness routine and opening up to new opportunities.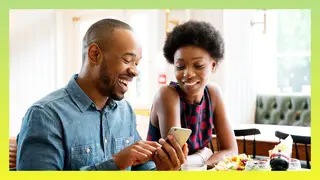 Sometimes all it takes is a shift in mindset to live your best life, and this year is the perfect time to make a change! In 2023, we are encouraging you to have an amazing year by rethinking your wellness routine and opening up to new opportunities.
In lieu of this, we spoke with Dr. Ashley Lowe-Simmons, LCSW-C, FSW, to get her advice on some of the best ways to make this year a great one. 
Want to make this your best year yet? Check out this easy to follow advice from the clinician and wellness expert!
Engage In Self-Care

Self-care, self-care, and self-care some more! Dr. Lowe-Simmons is a huge advocate for carving out time to care for yourself, especially if you intend to care for others.

"If we neglect ourselves, not only do we suffer, but our community suffers as well. It is critical that we engage in self-care opportunities routinely, so we are able to play every role and handle all responsibilities with a level of ease and graciousness," she advises.

Be Intentional

Dr. Lowe-Simmons strongly suggest becoming more intentional with your time because lacking intentionality can leave you spiraling due to the failure of planning.

"It is important to be intentional about your time because it develops order and systems in your life," she explains. "Intentionality allows us to have some type of schedule of what needs to be prioritized in order of importance."

Move Forward With Forgiveness

Lacking forgiveness can be a heavy weight to bear and ultimately leave you living in the past. This is why it is important to lighten your load and move forward with forgiveness.

"Lack of forgiveness hinders and sometimes halts forward momentum," Dr. Lowe-Simmons reminds us.

Avoid Dwelling In Negativity

Sometimes things don't go as planned, but that doesn't mean you have to mull over it. Dr. Lowe-Simmons explains, "We are only responsible for those things that we have the ability to control. When things do not go as planned, we have a choice to dwell in the negativity or to shift our perspective and accept the journey."

Bid Adieu To Meaningless Relationships

Let's be honest, some relationships don't last forever—especially if they are one-sided. Why go all out of your way for someone that doesn't reciprocate?

Dr. Lowe-Simmons says that in this new year, it's important to prioritize seeking out relationships (and friendships) where you both equally pour into each other.

And if it's not benefiting the both of you, she highly suggests letting it go. "When a relationship is over, we owe it to ourselves to ensure that it is ended on a healthy note through conversation and mutual agreement, if possible," she adds.

Embrace Change

As you know, change is inevitable. 

Dr. Lowe-Simmons believes that if we embrace change and stick with it through its difficult stages, we will eventually receive the good intentions that are meant for us. She reminds us, "Everything in life requires a season of change, change is not easy, but it is necessary."

Editor's Note: This story has been edited and condensed for clarity.