Police and Child Services Visit Blueface's Home Following Stripper Videos With Son
Officers have been called to the rapper's LA home nine times since May.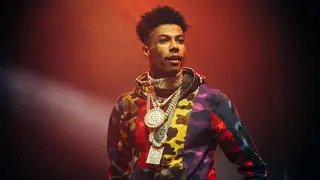 Videos featuring strippers posted to Blueface's social media reportedly have him in trouble with the law.
According to TMZ, police and children's services were recently called to Blueface's LA home. Law enforcement sources say that Sheriff's deputies and DCFS visited the rapper's residence after videos surfaced featuring his six-year-old son Javaughn in another room with strippers in his proximity.
One of the videos shows Blueface having strippers twerking in the room while his son and infant daughter, Journey, were being watched by a sitter. Another video shows him asking his son if he is gay while women stripped in a nearby room. Jaidyn Alexis, the children's mother, is also in the next room with the exotic dancers.
TMZ reports that the videos caught the attention of child services as they launched an investigation into the matter. Police have reportedly been called to Blueface's home nine times since May, most of which involve complaints about loud music and dogs constantly barking at the residence.