Sasha and Malia Obama, Mo'ne Davis Top Time 's 'Most Influential Teens' List
The first daughters, Mo'ne Davis, Nobel Peace Prize winner Malala Yousafzai and other widely-celebrated and followed teenagers were featured on the list.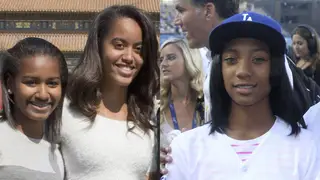 Time Magazine recently rounded up some of the most celebrated teenagers in the world for its "25 Most Influential Teens of 2014" list.
The authors of the list analyzed social media followings, cultural accolades, business acumen and more to determine this year's honorees.
With the rankings ordered from youngest to oldest, 13-year-old athlete Mo'ne Davis of Philadelphia topped the list thanks to her pitching a shutout game in the Little League World Series this summer and, subsequently, covering Sports Illustrated. 
"Well, about girl power…girls are just better than boys," Davis told BET.com in August. "I gotta keep girls up there on the same level of boys like, 'You could do anything a boy can do.'"

President Barack Obama's daughters Sasha, 13, and Malia, 16, were spotlighted for having become figures of national interests in their own right.
Nobel Peace Prize winner Malala Yousafzai, 17, actor and musician Jaden Smith, 16, transgender advocate Jazz Jennings, 14, and Modern Family star Rico Rodriguez, 16, were also among those acclaimed teenagers featured on the list.
"Teens today might have a mixed reputation, but there's no denying their influence," the article read. "They command millions of fans on Twitter and Vine, start companies with funds they raised on Kickstarter, steal scenes on TV's most popular shows, lead protests with global ramifications, and even — as of Friday — win Nobel Peace Prizes."
BET Sports News - Get the latest news and information about African-Americans in sports including weekly recaps, celebrity news and photos of your favorite Black athletes. Click here to subscribe to our newsletter. 

(Photos from left: Andy Wong-Pool/Getty Images, London Ent/Splash News)