OP/ED: Jill Scott Reminding Us That Black Folks Still Aint 'Free' Is The Independence Day Message We Didn't Know We Needed
Leave it to Jilly from Philly to educate the masses at ESSENCE Festival about the history between Black America and the 4th of July.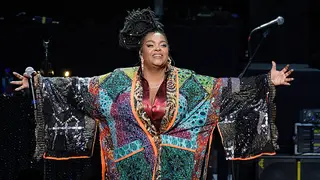 Let me paint the picture: It's just past midnight on July 2 at the Caesars Superdome in New Orleans. Jill Scott is delivering a perfectly crowd-pleasing set to thousands of fans at the 2023 Essence Festival of Culture  (known colloquially as Essence Fest).
Scott is every bit as compelling as the first time I saw her on stage in 1999, fresh-faced and relatively unknown with The Roots at the erstwhile State Theatre in Detroit, singing the hook she wrote for their hit "You Got Me."
But, after a day of traveling, eating, drinking, and roaming around the French Quarter in 97-degree humidity, my man Ed and I are tired. His eyes are closed, and I'm doing that fast blink, trying to stay awake. I know there's no way we're going to make it long enough to see Missy Elliott, who is headlining on Sunday and likely wouldn't hit the stage until somewhere around 12:45 a.m.
As Scott completed her set, she announced that she'd perform one last song; a tune she wrote when she was 19 years old.
"Oh, say can you seeeee…."
"Not the National Anthem, right?" I'm thinking.
"…by the blood in the streeeets…"
Say word! My eyes widen and I lock in. What follows is two minutes of a jacked rendition of the Anthem that acknowledges America's yet-to-be-reconciled issue with the country's true origins. With the closing of every bar, the response from the crowd gets even louder.
"…whose blood built this land with sweat and their hands. But we'll die in this place, and your memory erased."
When she hits the crescendo at the end, the audience erupts…the electricity of frustrated Blackness coursing stronger than ever throughout the entire venue.
"This is not the land of the free, but the home of the slaves."
Thousands of Black people stand and applaud. The goosebumps flow. Even my dude, Ed, wakes up.
Scott drops nuggets that clear the cobwebs, allowing the audience and those watching from home to see that although there is an exhaustive list of successful members of the Black diaspora who, arguably, could not have achieved their wins anywhere but America, the questions still must be asked: Who, exactly, was free on July 4, 1776? Certainly, not us.
We still live in a country where Black people still use the local E.R. for primary health care and are more likely to be shot dead than any other demographic in the country. It's why I, and scores of other Black folks, endure an existential conflict of sorts every 4th of July because the wave of Old Glory and tear-dropping patriotism hit a bit differently for us.
This is why Scott's interpolation of the Anthem connected with this audience and went viral in the days after. And, it certainly doesn't hurt that her voice is melodic enough to reach the ancestors.
Of course, right-wing white folks—along with a handful of lost Black people—have jumped on Scott, calling her "anti-American" and pointing out her net worth as a reason she shouldn't have any complaints about being Black in America. Because, apparently, being rich means that you can't have an opinion about abject racism.
During a March concert in her hometown of Philadelphia,  Scott sang the rendition and provided this explanation: "When I sing 'home of the slave,' that is not intended to divide, because division is not what we need. When I say that, we are in a place that makes us slaves to consumerism, it makes us slaves to social media, it makes us slaves to b— lies that don't make no kind of sense, but we follow the stories like suckas, like slaves, to whatever kinds of negativity that doesn't benefit us as a people, as a culture, nor as a society."
If anything, this feedback underlines why Scott was the right one to deliver the message. Her subversion of the National Anthem is on point and only proves that we don't always have to get our message across by being nice or agreeable.
Sometimes, the revolution starts with a song.
"Oh say can you see by the blood in the streets / That this place doesn't smile on you colored child / Whose blood built this land with sweat and their hands / But we'll die in this place and your memory erased / Oh say, does this truth hold any weight / This is not the land of the free, but the home of the slaves!"
---
Dustin J. Seibert is a native Detroiter living in Chicago. Miraculously, people have paid him to be aggressively light-skinned via a computer keyboard for nearly two decades. He loves his own mama slightly more than he loves music and exercises every day only so his French fry intake doesn't catch up to him. Find him at wafflecolored.com.