Look: Arkansas Student Expelled for Racist and Offensive Bill Cosby Halloween Costume
Brock Denton has since apologized, sort of.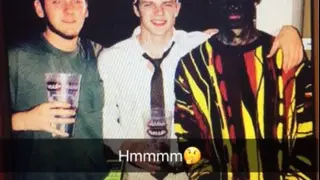 Every Halloween we go through the same old song and dance of trying to explain why it's not OK to use black face as part of a costume. 
Yet for one University of Central Arkansas student, black face was simply not enough. Instead, he also decided to dress as one of the most controversial figures in current history. 
U. Central Arkansas student Brock Denton dressed in a Corgi sweater and painted his face black in order to become Bill Cosby for a fraternity party. As if the black face weren't bad enough, how about the fact that Cosby is currently being accused by more than 50 women of rape and sexual assault. 
A photo of Denton was taken at a party and posted to Instagram with the caption, "It was a bold night." Eventually, the photo was shared all over the Internet. 
After the photo first went viral, school administrators posted a statement to their own Twitter page as a way to ensure the community that the issue will be handled. 
University of Central Arkansas President Tom Courtway also hand-wrote a statement that the school posted online. 
Brock Denton has since written an apology that he posted to Instagram. However, some are criticizing the effort as being a way for him to speak about how this has negatively affected him instead of understanding how and why he offended others. 
The chapter of Denton's fraternity, Sigma Tau Gamma, was suspended as well, reported the Root.