BET Awards 2023: 5 Times Kendrick Lamar Was A 'Big Stepper' On A Remix
The BET Award winner has a history of jumping on a hot remix.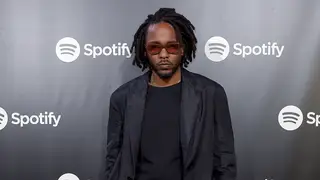 Kendrick Lamar has solidified himself as one of today's best hip-hop acts. With his fierce lyrics, witty punchlines, and records that may have you reflect in the mirror, Lamar's excellence in music will never go unnoticed.
After four timeless albums and an impressive fifth project in Mr. Morale & the Big Steppers, it's no surprise the 35-year-old racked up three award nominations this year at the BET Awards 2023, including "Album Of The Year."
We fell in love with Lamar for his original records, but the artist has lent his pen to his peers for a few remixes in the past, with these five being some of the top verses he's delivered.
"F**king Problems" – A$AP Rocky ft. 2 Chainz, Big Sean, and Kendrick Lamar

You couldn't walk past a car or watch a music video show in 2012 without hearing this record with a new school of hip-hop pioneers. The remix, released in October of that year, was one of the hottest songs on the radio and went 7x platinum since debuting. Complex also gave the record the 21st spot on its list of the best 50 songs of 2012. "Uh, yeah, h**, this the finale, my pep talk turn into a pep rally" will always get folks hyped despite Lamar's verse as the closer.

"Collard Greens" – Schoolboy Q ft. Kendrick Lamar

Who doesn't like collard greens? Labelmates at the time, the two rappers collaborated on one of the most-played songs in 2013. Despite many not understanding the Spanish lyrics Lamar incorporated in the record, it became a smash hit and ended up double platinum.

"Freedom" – Beyoncé ft. Kendrick Lamar

You can't lose when you have two of the best acts in music on a record. Releasing the song for her sixth studio album, Lemonade, the mother of three tapped the former TDE signee for this motivational record. She provided fans with a live performance at the BET Awards 2016.

"Goosebumps" – Travis Scott ft. Kendrick Lamar

Tell me you don't get goosebumps when you heard Kendrick say:

Peter Piper picked a pepper, so I could pick your brain and put your heart together.

 Yeah, let's run this one back for the summertime.

"America Has A Problem" – Beyoncé ft. Kendrick Lamar

So nice they had to collaborate twice. "Go stank, f*** it up," and we do every time it's played.

BET Awards 2023 premieres Sunday, June 25 at 8 pm ET/PT on BET and BET Her.