BET Awards 2023: 3 Heartfelt Speech Moments From This Year's Ceremony
This year's speeches were filled with gratitude.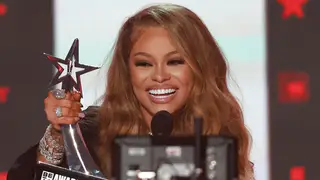 Looking back on another spectacular BET Awards 2023, we cannot overlook the extraordinary winning speeches that warmed our hearts. From an impassioned plea for unity to an outpour of gratitude,  these speeches captured the moment's essence and resonated deeply with viewers everywhere.
Join us as we relive some of the most unforgettable winning speech moments from this year's ceremony celebrating the power of words and the transformative impact of those who speak them.
Busta Rhymes

During his acceptance speech as this year's "Lifetime Achievement Award" recipient, the legendary rapper thanked his family and friends and called out for artists, both young and old to "love each other." He added, "They scared for us to get together. We might give yall too much information," he said.

Latto

Latto won her second BET Awards for "Best Female Hip Hop Artist." "I'm not going to cry this year," the "On the Floor" emcee began. "But shout out to God. Shout out to all the other women in the category and the women who paved the way for this to even be possible. This category is going crazy this year."

Coco Jones

Singer and actress Coco Jones emotionally accepted her first-ever BET Award for "Best New  Artist." "Thank you so much, BET. I remember when I did 106 & Park with y'all when I was 16, in them tight little skinny jeans and sneakers. It's been a long journey," she said while accepting the honor. She also thanked those who stuck by her side when she "didn't have anything going for myself."