BET Awards 2023: 5 Things to Know About Rapper Scar Lip
The Bronx native took the stage with "Lifetime Achievement Award" recipient Busta Rhymes.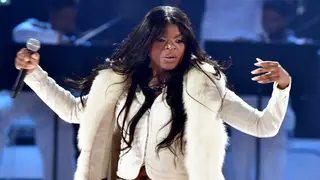 BET Awards 2023 have officially wrapped, and it goes down as yet another amazing celebration of Black excellence featuring some of the most prominent names in the entertainment industry. There were several major winning moments and endless performances from over a dozen hip-hop figures, veterans, and rookies.
Among the new crop of talent was rising New York native Scar Lip. With razor-sharp lyricism and a commanding delivery, the female emcee has quickly gained recognition for her unapologetic and raw approach to storytelling, with songs like "Glizzy Gobbler" and "City Voice."
During culture's biggest night, the 22-year-old took the stage with "Lifetime Achievement Award" recipient Busta Rhymes for a show-stopping performance of her single "This Is New York." Scar Lip's distinct style and fearless attitude make her an artist to watch as she continues to carve her path in the male-dominated rap world. In honor of the spectacular moment, get familiar with the burgeoning star.
Her upbringing is a story of tenacity and strength

Born Sierra Lewis, the rising rapper grew up in the Bronx. She experienced many traumatic incidents, including losing her mother to a hit-and-run.

Her moniker stems from a childhood incident

The intriguing name actually comes from a childhood accident where she got a scar on her lip. Scar Lip embraced the incident as a symbol of her resilience and strength, incorporating it into her rap persona. 

She's received cosigns from some of the biggest names in the industry

Since bursting onto the rap scene, Scar has already gained the support of her peers including several heavy hitters, including Grammy Award-winner Cardi B, Jadakiss, and Busta Rhymes.

She has an established sound

Scar Lip's sound is highly influenced by gangster rap. She describes her art as "hardcore aggression." She's influenced by the late DMX, legendary hip hop group Onyx, and fellow Bronx native Cardi B.

She went viral

Scar Lip initially garnered attraction on YouTube thanks to a 2022 single titled "Glizzy Gobbler." The clip has been viewed over 646,000 times on the video platform.