BET Awards 2023: 5 Epic Hip-Hop Moments From This Year's Ceremony
From viral hits to an unexpected reunion, this year's show had it all.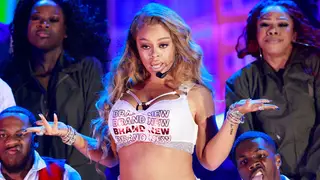 Last week BET Awards 2023 not only celebrated some of the biggest and hottest names in rap music but also recognized 50 years of hip hop with over half a dozen performances from some of the most prominent names in the industry with special appearances from today's rising talent. As we reflect on yet another amazing show, we're looking back at some of the most epic hip-hop performances from this year's ceremony.
Busta Rhymes' Lifetime Achievement musical tribute

Busta Rhymes gave viewers the ultimate hip hop experience featuring a slew of artists bringing old and new school together on one stage.

Migos Reunion

Quavo and Offset reunited onstage to honor their late groupmate Takeoff for a heartbreaking tribute.

Trina, Trick Daddy, and Uncle Luke

Viewers were transported to Miami with a hip hop medley featuring hometown heroes Trina, Trick Daddy, and Uncle Luke.

Latto

The Georgia rapper is having a remarkable year. Not only did she deliver a fiery performance but the emcee also took home the "Best Female Hip Hop" award.

Lil Uzi Vert

Lil Uzi Vert brought their viral single "Just Wanna Rock" to the BET Awards stage for a first-time-ever performance.