BET Awards 2023: 5 Major New York Moments From This Year's Ceremony
From Ice Spice's Bronx-inspired set to a showcase of popular dances, New York was very much in the building.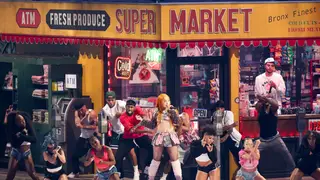 As we recount some of the most memorable moments from the BET Awards 2023, we're looking at some of the most unforgettable moments. From Lola Brooke to Lifetime Achievement Award recipient Busta Rhymes, this year's ceremony featured several electrifying performances brought to you by some of New York's finest artists.
Join us as we relive the glitz, glamor, and unforgettable New York moments that took center stage at this year's BET Awards, capturing the essence of the city that never sleeps.
Scar Lip

Rising female emcee Scar Lip made her BET Awards performance debut with "This is New York" alongside Lifetime Achievement Award winner Busta Rhymes.

Lola Brooke performs smash single "Don't Play with It"

Brooklyn native Lola Brooke also made her debut at this year's show with her record, "Don't Play with It."

Ice Spice reps the Bronx

Ice Spice brought the iconic Fordham Rd to the BET Awards stage.

Busta Rhymes delivers a show-stopping tribute

Busta Rhymes delivered an epic performance featuring a medley of hits and rap stars.

Popular New York dances

Without New York we wouldn't have several iconic dances, including "The Harlem Shake" and "The Dougie."