Loni Love Updates Fans About 'The Real' Cancellation
The comedian and co-host headed to her Twitter to share that she received a call from the studio.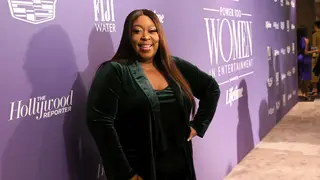 Loni Love is giving fans an update in response to the rumors that the daytime talk show The Real is being canceled.
In case you missed it, last week chatter started that the popular FOX show would be no more but there had not been any additional word from the producers or any of the four co-hosts.
In an interview with BET.com on Friday (Mar. 11), co-host, actress, model and author of the forthcoming book, Love Me As I Am, Garcelle Beauvais says the rumors are just that… rumors.
"It's a rumor. It hasn't been confirmed by Fox, my team or anyone," she shared.
Now, Loni Love is doubling down on her co-hosts' comments with a quick message on Twitter on Sunday (Mar. 13), and adds that she received a call from the studio but "no official decision has been made" on if The Real has been canceled.
The comedian also shared that the current season will finish taping all episodes and then they will wait for an official word about what will happen next.
The Real first aired in 2013 and the show has since gone through a number of different hosts before landing on its current roster which includes Adrienne Houghton, Loni Love, Jeannie Mai Jenkins, and Garcelle Beauvais as the latest edition.