5 Reasons Drake Is Owning The Billboard Charts Like A King
Just when you think he couldn't make history on the charts again, Drizzy is proving the haters wrong.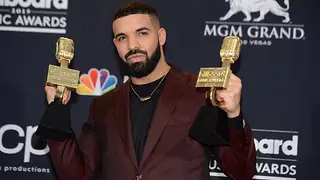 At various points in his career, Drake has professed that he has reached his personal plateau, hinting that he has reached the bar he has set for himself. On the song "Is There More" from his Scorpion album, Drake raps, "I mean you know I love a challenge, but challenged by who?" 
The Canadian-born actor-turned-rapper has actively dedicated his life to making music since 2006. From his first Billboard Hot 100 entry in 2009 with "Best I Ever Had," Drake has consecutively appeared on the charts for 431 weeks until the tail-end of summer 2017, a record he still holds. 
Among his impressive Billboard stats, his latest is sure to be a top contender for his personal record book. Drake is the first solo artist to simultaneously debut songs in the first three Billboard Hot 100 chart positions (1. "What's Next," 2. "Wants And Needs" featuring Lil Baby, and 3. "Lemon Pepper Freestyle" featuring Rick Ross). He now has 231 Hot 100 entries, the most of any artist. 
Drake is aware of his chart dominance and makes it clear in his music he bows down to no one, but how is he maintaining this impressive reign for so long? The answer may lie in a line from another Scorpion track, "Blue Tint" where Drizzy says, "Top of the charts, back in they hearts." 
Here are five reasons why Drake is crushing it on the Billboard charts like no one else in the rap game today.
He Adapts To The Times

It's vital that an artist stays true to their craft, and it can be tough to do so and still have an audience be receptive to the output. Drake's ability to not only adapt to the current landscape of music but to lay a new foundation along the way has served him well during his decade-plus career. By choice, Drake is no longer under the umbrella of hoarding music and never letting it see the light of day. In fact, during this current pandemic, his output has been exceptional, which leads us to the next reason why he's dominating the charts.

He Consistently Releases Music

Even while fans have had no choice but to be patient for his long-awaited album release of Certified Lover Boy, Drake still releases music. On March 5, he dropped off a three-track EP titled Scary Hours. Every song on the extended play debuted in the top three positions on Billboard's Hot 100 chart.

This wasn't always the case. As the landscape of music streaming unfolded, so did Drake's music folder. On May 5, 2020, Drake dropped off his Dark Lanes Demo Tapes mixtape, a project filled with leaks some new music and some old. 

He's Relatable

Aside from making good music, Drake has made a career in part because he's so damn relatable to his audience. Fans anticipate his albums in hopes of finding a suitable IG caption. This ingredient formulated early on in his career. Songs like "Successful" with Trey Songz and "Best I Ever Had" host simple lyrics that are melodically placed for impact. 

He's A Reliable Source Of Good Music

It's as if the world stops when Drake releases music. Listeners are not just playing the song once, they're returning to his music over and over again because it's enjoyable. "What's Next" was released on March 5 and is already eligible for gold certification in the U.S. In 2018, Drake's hit "God's Plan" became his longest-leading Billboard Hot 100 no. 1. 

He proves, time and time again, that he can make a hit, with "more slaps than the Beatles," moving us to the last -- but not least -- reason why Drake is a Billboard king. 

He's Still A Top-Tier Artist

Drake opened up his 2018 album Scorpion with the intro track, "Survival." The title speaks for itself. Not only has Drake figured out how to survive in hip-hop for a long period of time, but he's also thrived. Billboard records are still being broken, fans still crave the music, and every time he drops a song, he owns the charts, solidifying his position.