Republican National Committee Upgrades Black Media Staff
Orlando Watson and Tara Wall have been tapped to communicate the Republican National Committee's Black voter outreach efforts.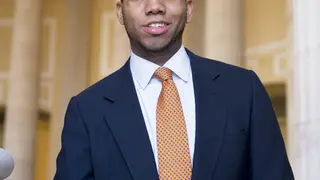 Orlando Watson is the RNC's communications director for Black media. He previously worked as press secretary for Arizona Republican Rep. Paul Gosar and gained on the ground experience as a campaign staffer for Sen. Rand Paul (R-Kentucky).
Having started just this week, Watson is still getting his feet wet, but says his mission is to help make a "serious, conservative case" to Black communities, which he says can best be accomplished in three ways.
"The first is show up and engage and Chairman Priebus has been doing that," he said in an interview with BET.com. "The second would be to articulate our message in a language that's relatable to the people we're speaking with, and thirdly, I would say it's to recruit candidates that look like the people we want to engage with."
Watson said that issues such as jobs, the economy and education reform are ones that will resonate strongly with African-Americans, many of whom hurt the most during a tough economy.
Veteran Republican operative Tara Wall, who handled African-American media for Mitt Romney's 2012 presidential campaign, has signed on to the GOP Black voter outreach effort as a senior adviser for Black media.
She says that African-Americans, particularly young adult males, are starting to feel disaffected by President Obama and Democrats, which opens up a lot of opportunity for the GOP to actively engage and even win support.
"During these next couple of elections, the ball is in both courts to court voters [of all ethnic groups] aggressively on both sides of the aisle. It's anybody's ball game," Wall told BET.com, adding that there will be "a lot more engagement [in Black communities]. Stay tuned."
BET Politics - Your source for the latest news, photos and videos illuminating key issues and personalities in African-American political life, plus commentary from some of our liveliest voices. Click here to subscribe to our newsletter.