NeNe Leakes Won't Return to Wendy Williams Show
Reality star took offense to the talk show host's criticism.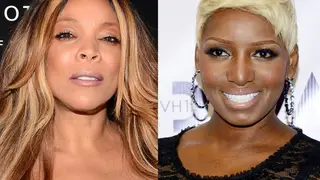 (Photos from left: Andrew H. Walker/Getty Images,Michael Buckner/Getty Images)
The on-and-off beef between Wendy Williams and NeNe Leakes seems to be very much back on. The Real Housewives of Atlanta star has vowed to never again appear on The Wendy Williams Show after taking offense to Williams's criticisms of her Twitter comments.
It all started when Leakes fired off a tweet about the abundance of reality shows on television. "Just saw a list of all the new reality shows that r coming soon! Everybody is a reality star now! WOW! I gotta go," NeNe wrote.
Williams discussed the tweet, calling out Leakes for being a hypocrite. "Everybody is a reality star now? In case you've noticed, people watch more reality shows than sitcoms," the talk show diva pointed out. "You should have just kept your mouth closed," she added.
Leakes made her feelings about Williams's insults crystal clear when she responded to a Twitter follower who asked if she would ever appear on The Wendy Williams Show again. "No," she responded simply, adding that she isn't interested in reuniting with her former friend.
This isn't the first time the two divas have been at odds. Leakes blasted Williams after the host made comments about the reality star's marriage to Gregg Leakes. "Wendy Williams don't know S--T about my relationship!" NeNe tweeted angrily.
Hopefully the outspoken duo will forgive each other soon, at least for the audience's sake!
BET.com is your #1 source for Black celebrity news, photos, exclusive videos and all the latest in the world of hip hop and R&B music.