Run That Back: This Week in Music Featuring ScHoolboy Q, Jay Z and More
Our music staff picks their favorite songs released July 8 - July 15.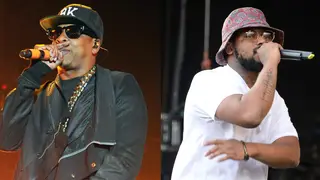 ScHoolboy Q released Blank Face LP, his highly-anticipated fourth solo studio album, late last week to critical acclaim. Songs like "THat Part" and "Groovy Tony" were already heard by fans, however the rest of the album seemed to do its part as well. Check it out here.
Ty Dolla $ign, Juicy J and more also released music this past week. Check out a few of our staff picks below.
Ty Dolla $ign Featuring Big TC – 'No Justice'
As the nation continues to struggle to make sense of (or excuses for) its turmoil, the #BlackLivesMatter movement and other proponents of justice continue their outcry. In a moving joint video with his incarcerated brother Big TC, Ty Dolla $ign laments the ill treatment of Black bodies in America. Much like his previous collaborations with TC, "No Justice" tugs at the heartstrings as Ty Dolla $ign's kin serves as the face of an unfortunate plight while a closeness between physically distant brothers takes center stage. Victims like Rekia Boyd, Eric Garner, Philando Castile and Kathryn Johnston are still our tragic poster children. — Iyana Robertson
Clams Casino Featuring A$AP Rocky and Lil B – 'Be Somebody'
Welcome back, Clams Casino! There's something magical about A$AP Rocky and Lil B together over Clammy Clams's production, considering both utilized him heavily at the start of his production career. With "32 Levels" arriving, we get this track right here, which takes all of Clams Casino's obscurely abstract production and melds it once again with Rocky bars and Based God bars. The combination is perfect. As expected. — Kathy Iandoli
Nelly Furtado – 'Behind Your Back'
Not for nothing, but seeing Nelly Furtado doing it up for Missy Elliott on Hip Hop Honors was an added sprinkle of sentimentality to the night. She even went on Twitter and said, "Surrounded by my '90s heroes had me nostalgic" before she released this little gem. The track kicks off with a super basic drum, guitar and bass that errs on the old school hip-hop side and gets the Nelly Furtado treatment when those pop vocals spill in. Plus, it's about saying nice things about an ex. That, like, never happens. — Jon Reyes
Juicy J – 'Blue Bentley'
Juicy J's been working hard as of late. He recently released his collaborative TGOD Mafia: Rude Awakening project with Wiz Khalifa and now is back with Lit In Ceylon, a deluge off all styles Juicy over the past decade. "Blue Bentley," one of the standouts on the mixtape, has the Juice Mane trotting out a vehicle most rappers rent for their videos (but he actually owns). The visual, directed by Ted Cadillac, reveals the Three 6 Mafia member's taste for expensive things. It ain't no thang for him though. He's "been rich since the '90s." — Paul Meara
Dizzy Wright – 'They Know Why'
With "They Know Why," Dizzy Wright adds to the growing collection of artists turning to music in order to express their thoughts and emotions surrounding recent events and to keep the open dialogue surrounding the #BlackLivesMatter movement going strong. Creating the track and working with Jesse Ray Diamond to put together the visuals in less than 24 hours since the song's conception, Dizzy's chorus includes the line, "Martial law is coming, get familiar / Donald Trump ain't no different from Hitler," reflecting on the upcoming election and the terrifying possibility that Trump could be our next president. The music video weaves in news clips from the past couple of weeks while following Dizzy around as he reflects on police brutality, protesting efforts and what needs to change.
Before the video ends, Wright signs off with a personal message, adding, "All I'm saying is our anger comes from a different place and I pray the world can understand that this country has always worked against us, so responding with violence seems like the only way but it's not and it's up to the positive people in the world to spread that love." — KC Orcutt