Jada Pinkett Smith's 'Red Table Talk' Returns To Facebook Watch And No, It's Not What You Think
The new season welcomes an array of guests including Janelle Monáe and an episode where the Smith siblings take over the show.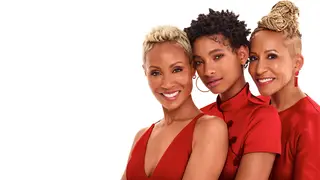 Jada Pinkett Smith's Red Table Talk, is headed back to Facebook Watch and the timing couldn't be better. 
Amidst all of the thought pieces and speculative headlines about the incident involving her husband, Will Smith and comedian Chris Rock at last month's Academy Awards, Pinkett Smith has mostly kept quiet. And with the debut of Season 5 of the multi-award winning digital show, that doesn't seem to have changed much leaving some fans to wonder exactly when Pinkett Smith will have her own sit down to debrief about "the situation" at the infamous red table.
Until then, Pinkett Smith, along with her daughter Willow Smith, and her mother Adrienne Banfield Norris aka "Gammy," take on the new season with their multi-generational points of view bringing provocative conversations to the forefront. 
The first new episode includes Grammy nominated singer/songwriter and LGBTQ+ advocate Janelle Monáe and Janet Hawthorne, Janelle's mother. Together, the two reveal details about Janelle's challenging childhood, Janelle's coming out story and why the 32-year old no longer identifies as a woman. In addition, this season, fans will hear the heartbreaking story of how the parents of former Miss USA Cheslie Kryst first discovered details about their daughter's death by suicide earlier this year,  and all three Smith siblings (Willow, Jaden and Trey) come together to take over the table for the first time ever.
The new season debuts today (Wednesday) April 20 at 9am PT/12pm ET with new episodes streaming each week. Check out the Season 5 trailer below: