Jeezy And Jeannie Mai Jenkins Celebrate Baby Monaco's 1st Birthday—Check Out Footage From The Cutie's First Year!
From luxe vacays to fun-filled moments with the Mai-Jenkins family, there's no question Baby Monaco is living her best life!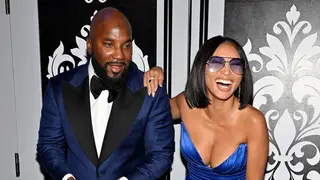 Happy Birthday, Monaco Mai Jenkins! Over the weekend, the daughter of Jeezy and Jeannie Mai Jenkins' celebrated her 1st birthday with a luxurious at-home spa day and quality time with her Mai-Jenkins family.
Jeannie marked Monaco's big milestone with footage from her birthday festivities, along with a glimpse into her first year.
"Happiest Birthday my Capricorn twin. One year ago, you made me a mom...and girl you've transformed my life," Jeannie captioned an Instagram video on Saturday (Jan. 21).
In the sweet video compilation, the proud mom highlighted heartwarming clips from the infant's first year, including the moment Monaco arrived in the delivery room and instantly bonded with her dad. 
Other adorable highlights from the cutie's video included the sharing quality time with the Mai-Jenkins family, fun playdates, luxe vacations, yacht cruises, rocking fly fashions, and making silly faces with her mommy.
"You got me cursing less, doing laundry more, and gave me new followers from our content. You're the best," Jeannie added. "We couldn't celebrate you for just one day, but thru this whole month with fam near and far. We adore you our precious Monaco Mai Jenkins."
In late December, the proud parents took their daughter on her first trip to New York City. The infant's holiday excursion included a first-class flight with her family and a fun-filled holiday shopping experience. Check out the footage in the link below!