Joseline Hernandez Celebrates Her 35th Birthday In Her Brand-New Florida Penthouse—See Inside The Luxe Home!
The reality star is doing it big for her birthday with fashionable attire, a stunning crown, and a fabulous new beachside home.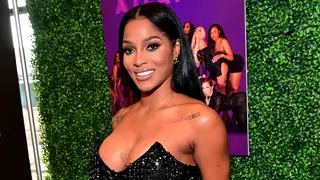 Joseline Hernandez is doing it big for her birthday! Below, check out the highlights from her big day—including a look at her brand-new penthouse.
On Wednesday (Nov. 3), Joseline hopped on Instagram to give fans a glimpse into her birthday celebrations. "The fact that I'm alive is still sinking in! I never thought I'll see past 35 years old. Wow. Thank you good universe you have been good to me and faithful," the reality star captioned a series of stylish snapshots.
The mother-of-one looked stunning in an emerald-green velvet dress by GODDESS Exclusive, which she paired with an equally elaborate crown/halo by Anička & Vlado
"Do it like like is my b day! 🎶🎶 Thank you @carbickovacrowns @goddess_exclusive for my look," Joseline happily captioned additional photos.
In the same post, the birthday girl celebrated her brand-new Florida penthouse that was covered in custom balloons from balloons4you.us. "Thank you @keyswithkeonna__ For my brand new penthouse. My birthday has been a blessing!"
Catch a glimpse inside the penthouse while it was being transformed into a birthday oasis!
We are definitely feeling the new digs, which features a beachside view! Join us in congratulating Joseline and her bae Balistic Beats on their new abode.