HBCU Applications Increase After George Floyd Protests
Black celebs have stepped in to spotlight the prestigious institutions.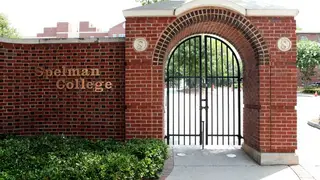 The desire to attend a historically Black college has significantly surged, with more and more applications coming in after the traumatizing year Black people endured in 2020.
According to USA Today, some schools have seen a 30% increase in application submission. Morehouse college, the prestigious institution that houses Black men, had a 60% application increase in 2020. Neighboring all-women HBCU school Spelman College saw their applications go from 4,000 in 2014 to 11,000 in 2021.
Despite the drop in nationwide college applications, HBCUs are witnessing a different outcome.
HBCUs have been more visible than ever, especially following the racially charged murder of George Floyd. The pandemic wasn't the only issue to deal with in 2020, as the United States sought ways to handle the systemic inequalities that exist within our educational system and underprivileged communities.
Spelman's chair of their chemistry and biochemistry department, professor Kimberly Jackson, said HBCUs allow their students to academically focus on cultural relevance that are impacting their lives.
"The specialness is that we are intentional about this empowerment mode, when other spaces look at students from a deficit perspective. And we don't," "When they come in, we tell them, 'You have potential. We highlight Black female scholars at Spelman.'"
Black celebrities have been a tremendous support to HBCUs. They continue to serve as alumnus, current students and contributors to the schools. The contributions have come in the form of financial backing and all-around moral support.
Diddy has been a recurring donor to his alma mater of Howard University for years. In 2021 Serena Williams and Michael B. Jordan teamed up to award $1 million to an HBCU student with "an outstanding business plan." Kevin Hart gave $600,000 in scholarships to 18 qualifying HBCU students in 2020.
And, who could forget Beyoncé's spectacular #Homecoming Coachella performance heavily inspired and dedicated to HBCU marching bands.
Skylar Mooyoung, daughter of Howard alumni Dr. Nichole Butler-Mooyoung, followed in her mother's footsteps to attend the university. Skylar notes that celebrity attention helps bring more positive outlooks to the university. "With Kamala Harris being the vice president of the United States, people want to go to HBCUs more," she said. "Not that I was ever trying to justify why I went to an HBCU, but I don't have to anymore because everyone knows that (Howard) is her alma mater."