REVIEW: 'Ma Rainey's Black Bottom' Is A Trifecta Of Movie Watching Delights
Combine Viola Davis, Chadwick Boseman, and the power of Netflix and you've got note-worthy adaptation primed for award season.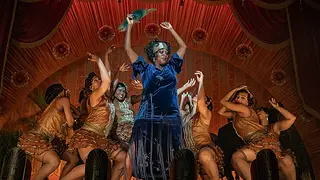 Backed by producer Denzel Washington, Netflix's Ma Rainey's Black Bottom is directed by George C. Wolfe who transformed August Wilson's 1982 stage play into a lush film adaptation. The film opens in the sweltering, hot Chicago summer of 1927 where racial tensions are high, and Ma Rainey (expertly played by Viola Davis) is in the studio with her band and girlfriend (Taylour Paige) trying to record an album for a white-owned record label that Ma Rainey distrust— and rightfully so.

Davis stars in the title role as the legendary blues singer whose gold teeth and grease-paint make-up perfectly complement her powerful voice, brash lyrics and far-ahead-of-her-time entrepreneurial spirit. It's said that at her death in 1939, Ma Rainey actually owned two theaters. 
Davis, who won an Oscar for another August Wilson film adaptation in Fences, once again puts in a phenomenal performance. She owns the room in every scene she enters no matter who is occupying the space with her and that's saying something with a cast that includes Colman Domingo (Euphoria, Fear The Walking Dead), Gynn Turman (Cooley High, A Different World), Michael Potts (True Detective, The Wire), and the late Chadwick Boseman. 
Boseman's performance is especially electric. His character, Levee, who is a part of Ma Rainey's band, is a young, audacious trumpet player who likes fancy clothes and fine women (even if it's someone else's woman) and he desperately wants to be more than just part of Ma Rainey's band. The man has big dreams and is willing to confront anyone who potentially gets in his way, even God. 
Levee, Cutler (played by Domingo) and the rest of the bandmates have a conversation that banties about the N-word in a way that makes you feel like you're stepping into a modern day locker room or barbershop with Black men talking the way that Black men talk. Cutler's Bible-thumping, middle-age sensibilities collide with Levee's unchecked bravado. It culminates in a scene where Levee questions God which will only further cement Boseman's place as one of the most prominent actors of our time. He will undoubtedly be honored with posthumous awards for this last performance before his untimely death this summer.  
It's a pivotal moment in a beautifully shot movie that honors the work of Wilson. "Denzel is the producer on this project and he has taken on the stewardship of the estate and is making sure that August Wilson's 10 plays ( the Century Cycle) are filmed and so Ma Rainey is just the second one," said Wolfe in an interview with BET.com. "When we talked about casting choices, Denzel was there almost every day on set."

Ma Rainey's Black Bottom is a trifecta of delights with August Wilson's sophisticated writing, a hypnotic, all-star cast, and the powerful story detailing the trials, tribulations and triumphs of a Black woman who gave more to the world than she ever received in return. 

Ma Rainey's Black Bottom premieres on Netflix on December 18.